Your Evening Briefing
Here are today's top stories.
Bloomberg News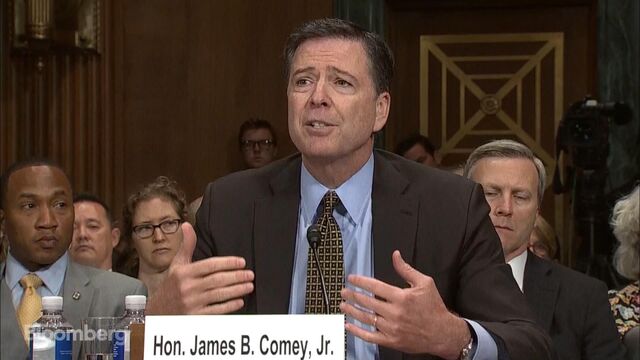 Want to receive this post in your inbox every afternoon? Sign up here.
James Comey would do it all again.
The FBI director was grilled today at a Senate Judiciary Committee over his decision to notify Congress he was reopening a probe into Hillary Clinton's emails right before the U.S. election. He defended his actions, while saying the thought he may have swayed the election made him "mildly nauseous."
The investigation is still a sore point for Clinton, who partially blames it, along with the Russian email hacking, for her loss. The FBI is continuing its probe into Russia's meddling, though Comey declined to say "another peep about it" to senators. –Katie Robertson
Forty-Nine straight hours inside Trump's Washington hotel. Tourists, $100 vodka cocktails with caviar, and a small dog in the arms of the Treasury Secretary. Bloomberg reporter Max Abelson spent more than two days inside the glitzy Trump International Hotel, chronicling the comings and goings at the president's second-most important building on Pennsylvania Avenue – which serves as a perfect symbol for his presidency. The lobby draws the fans who cheered Trump's promises to drain Washington's swamp, as well as the power players who know how to swim in it.
The GOP health bill gains new life as key holdouts vow support. Representative Fred Upton of Michigan says he will back the bill once an amendment he helped devise is added. It would boost funding for people with pre-existing conditions. A White House official said Republicans are still two or three votes away from being able to guarantee passage.
The Fed leaves interest rates unchanged. The central bank signaled it will look past a recent slowdown in U.S. economic growth, but provided little direction on when officials might next change the rate. There are two more rate hikes penciled into the Fed's 2017 forecasts, in addition to the increase made in March.
Puerto Rico files for a historic $70 billion debt restructuring. The island's federal oversight board filed with a U.S. court to use bankruptcy-like proceedings to slash debt, after failing to strike an agreement with bondholders. It pushes the territory towards the biggest restructuring ever by a U.S. state or local government.

What is Washington doing to my 401(k) tax break? Capitol Hill is abuzz with rumors that pretax contributions are in danger, though the White House has said that wasn't part of the proposed tax overhaul it's trying to move through Congress. Here's the situation and some of the likely outcomes.
Most U.S. homes are worth less than before the crash. While tech hubs in the Bay Area and Denver have seen home values explode past earlier highs, a new study from Trulia shows there are still more losers than winners when you look across the country. Nationally, just one in three homes are worth more now than they were at their peak.
Is this the most valuable car in the world? One of the most coveted cars in the world lost its driver this week when Atlanta flea-market magnate and racing aficionado Preston Henn died at age 86. For decades, Henn showed no interest in selling his rare 1964 Ferrari 275 GTB/C Speciale – one of only three. It may be the world's first car to break the $100 million mark, provided it finds its way to the auction block.
Before it's here, it's on the Bloomberg Terminal.
LEARN MORE