U.K.'s Local Votes Offer First Clues to May's Electoral Fortunes
By
Almost 5,000 seats fought across England, Wales and Scotland

Forecasters see Conservatives gaining seats from Labour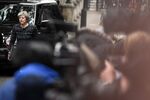 Local elections in the U.K. on Thursday will offer the first real test of how well Prime Minister Theresa May's Conservative Party is performing in the much bigger June 8 general-election fight -- and how badly Jeremy Corbyn's Labour opposition is doing.
Almost 5,000 council seats are being contested across England, Wales and Scotland, in addition to votes for six new regional mayors. The winners will control schools, trash collection and planning decisions in their areas.
QuickTake What the U.K. Snap Election Means for Brexit
May's Brexit policy is the dominant issue in the general election so, with local policies and personalities strong features in Thursday's votes, the results won't translate directly to the campaign for parliamentary seats. But they will still offer useful indications, and will be a morale boost -- or blow -- to party supporters.
The results are likely to be bad for the opposition. In 2013, the last time most of these seats were contested, Labour was level with the Conservatives in national opinion polls. It is now between 10 and 20 percentage points behind. The previous elections also predated Scotland's independence referendum in 2014, which provided a huge boost to the Scottish National Party.
"In a concrete and irrefutable way, it will confirm what the national polls are saying, which is that Labour is heading for a disaster," said Steven Fielding, professor of politics at Nottingham University. "Will that motivate activists? Well, if you're a councilor who just lost his seat because of Jeremy Corbyn, you may not want to go out and campaign for Jeremy Corbyn."

Last month, Colin Rallings and Michael Thrasher of Plymouth University's Elections Center predicted that May's Conservatives will make a net gain of 115 seats in England, while Labour will lose 75 seats. The Liberal Democrats were also forecast to do well, gaining 85 seats. The U.K. Independence Party was forecast to lose 105 seats. This week, Stephen Fisher of Oxford University went further, saying he expects the Tories to gain more than 400 seats and Labour to lose more than 300.
The effect such results would have on the national campaign is unclear. At the moment, May is talking up Labour's chances, because her defense of some seats against the pro-EU Liberal Democrat party depends on her argument that Corbyn has a realistic chance of winning. A heavy defeat for Labour in the local elections will make that argument harder to sustain.
Read more on the local elections, including the race to be West Midlands mayor
Although local elections are often held on the same day as general elections, it's rare for them to precede them by a matter of weeks. On the only recent occasions they have, in 1983 and 1987, they provided a poor guide to the subsequent vote, according to pollster Anthony Wells of YouGov Plc.
"People vote differently at local elections because they know they're not putting anyone into national government," Wells said. "If you look at the elections in the 80s, both times Labour were close to the Conservatives in the local votes then weeks later the Tories crushed them."
Before it's here, it's on the Bloomberg Terminal.
LEARN MORE