Trump Tells Abbas He Is Confident Mideast Deal Can Be 'Done'
By and
Peace agreement 'not as difficult as' thought, Trump says

Abbas to press U.S. president to support two-state solution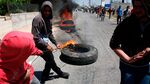 President Donald Trump said he is confident he can broker a Middle East peace deal, telling Palestinian Authority leader Mahmoud Abbas at the White House that he wants to prove skeptics wrong by reaching a goal that has eluded successive U.S. administrations.
A peace agreement between Israel and the Palestinians "is frankly, maybe not as difficult as people have thought over the years," Trump told reporters Wednesday at the beginning of a lunch between the U.S. and Palestinian delegations for the visit.
Minutes earlier, delivering a statement in the Roosevelt Room alongside Abbas, Trump said, "We will get it done." The U.S. president, a former real-estate developer and author of the "Art of the Deal," added that throughout his life, "I've always heard that perhaps the toughest deal to make is the deal between the Israelis and the Palestinians. Let's see if we can prove them wrong, OK?"
Abbas responded with a bit of flattery for Trump, praising his "courageous stewardship" and "your great negotiating ability," according to an English translator in the room.
Heading in to their meeting, Abbas, 82, wanted to persuade Trump to take a personal stake in the negotiations, according to his spokesman Nabil Abu Rudeineh. Abbas also planned to promote longstanding positions that Israeli Prime Minister Benjamin Netanyahu rejects, at a time when popular Palestinian support for negotiations with Israel has dwindled.
'Strategic Choice'
Abbas said that the Palestinians' "strategic choice" is to bring about peace by establishing a Palestinian state with the borders that defined the West Bank before the 1967 Arab-Israeli war and a capital in east Jerusalem. He said that also would aid broader Arab initiatives and other international priorities important to the U.S., including fighting the "criminal ISIS group." He said refugee and prisoner disputes can be solved through existing international law.
"It's about time for Israel to end its occupation of our people and of our land after 50 years," he said.
The Palestinian leader, who has become politically weakened at home, is under U.S. pressure to end a Palestinian policy of payments to prisoners who have committed terror acts and their families.  Senator Lindsey Graham, a South Carolina Republican, and other lawmakers are behind legislation to cut off U.S. funding to the Palestinian Authority if the payment policy continues.
Trump raised the issue during their meeting, White House press secretary Sean Spicer said after its conclusion. The U.S. president "emphasized the need to resolve this issue," Spicer said.
Regional Context
Trump wants to encourage the Palestinians to see Israel in a changing regional context in which leaders of Arab nations have more common interests with Israel in terms of countering Iranian aggression and the brutality of terror groups such as Islamic State, said Trump's national security adviser H.R. McMaster.
"Old thinking blamed the existence of Israel" for problems in the region, McMaster said. "This is a moment of opportunity. The question is, will we be able to take advantage of this moment?"
The last round of U.S.-led talks broke down three years ago amid mutual recriminations.
Trump has said he'd like to broker a peace agreement, calling it the "ultimate deal." Since his inauguration, he has met with Arab leaders and Netanyahu, and has appointed his son-in-law, Jared Kushner, and the former chief legal counsel for the Trump Organization, Jason Greenblatt, to pursue peace efforts.
Trump scrambled more than a decade of U.S. policy when he said during Netanyahu's White House visit in February that he isn't necessarily aiming for a two-state solution. 
Trump's Approach
While he is seen as more sympathetic to Israel than predecessor Barack Obama, he has urged Israel to hold back on settlement construction and hasn't promoted his campaign pledge to move the U.S. Embassy to Jerusalem from Tel Aviv, a move fiercely opposed by Abbas and other Arab leaders. Trump has been making preparations for a visit to the region as soon as this month.
The meeting was the first between Trump and Abbas, president of the Palestinian Authority. The Palestinian leader wants the meeting to show that he remains a key figure despite his advanced age and fading popularity among Palestinians, said Dennis Ross, who advised Obama and who played a key role in Middle East peace efforts during the administrations of George H. W. Bush and Bill Clinton.
"Trump can give Abbas relevance at a time when he desperately needs it," Ross said. "He wants to show that he remains a player."
In bringing Abbas to the White House, Trump is seeking "to build him up as someone who can actually respond," Ross said. "The meeting is a manifestation that the president, when he says this is the ultimate deal, he wants to take actual steps toward it."
Ghaith al-Omari, a senior fellow at the Washington Institute for Near East Policy who specializes in Palestinian issues, said Trump's invitation represents a "diplomatic lifeline" for Abbas, who "has been becoming more and more irrelevant" as Hamas has gained strength and who is unpopular at home.
Nearly two-thirds of Palestinians want Abbas to resign and see the two-state solution as no longer viable, according to a December poll by the Palestinian Center for Policy and Survey Research in Ramallah. Some 56 percent support launching a new armed uprising against Israel, the survey showed.
Heading for Washington, Abbas stopped in Jordan for talks with King Abdullah, who has traveled to the U.S. twice since Trump's inauguration to urge him to get personally involved in peace efforts. Abbas also met in Egypt with President Abdel Fattah el-Sisi on Saturday, and with the Arab League at a March meeting that Greenblatt attended.
— With assistance by Fadwa Hodali, Margaret Talev, and Jennifer Jacobs
Before it's here, it's on the Bloomberg Terminal.
LEARN MORE