Art
Can a New Domain Finally Bring the Art World Into the 21st Century?
By investing in the domain, .art, Ulvi Kasimov hopes to bring digital order to a market that can suffer from mystery, forgery, and an aversion to new technological tools.
By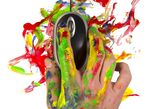 For $25 million, investor Ulvi Kasimov could have bought a decent Picasso to enjoy—or flip in a few years. Instead the London-based businessman has spent that amount on something much less tangible: an internet domain.
Kasimov's company, UK Creative Ideas Ltd., outbid nine rivals to win the contract to operate ".art," a new, top-level domain he hopes will create digital infrastructure for the international art community: individuals, organizations and eventually, art objects. Starting on May 10, when the general availability period begins, anyone will be able to acquire a domain name with an .art extension for as little as $15.

"I am convinced that the future is at the intersection of art, finance and digital space," Kasimov, 47, said in a recent interview in New York.
The pitch is that .art instantly creates an identity aligned with the art world; you can see plainly why Apple Inc. rushed to register iphone.art and facetime.art, among 36 domain names. During the preferred access period, which launched in December, more than 2,000 domains were purchased on .art by cultural organizations, as well as tech companies, luxury brands and banks. Instagram.art, Rolex.art and Beyonce.art were all snatched up. Ditto: .art domains for the Louvre, Tate and Centre Pompidou. Mega-gallery Hauser and Wirth celebrated its 25th anniversary with a special .art micro-site.
Chinese choreographer and painter Shen Wei said that acquiring shenwei.art allowed him to differentiate from others because his name "is not uncommon in China," he said in a statement. It also could help you distinguish yourself in the field. "The most common mix-up when Googling my name as an artist is with another artist of the same name who is a photographer," said Shen.
Is It Necessary?
Not everyone is on board. Mega dealers such as Larry Gagosian and David Zwirner haven't registered yet. Others, who did buy domains, are unsure they'll need to use them.
New York's Metro Pictures Gallery, which represents star artists such as Cindy Sherman and Robert Longo, had to buy its current domain name, metropictures.com, from a speculator years ago. So when .art version became available, it pounced, even though it has no immediate plans to switch to the new site. "It seemed like a good thing to do," said Janelle Reiring, a co-founder of the gallery. "It was a very practical decision."
The Dash for Domains
Kasimov is part of a hot new trend in the domain universe. Traditional domain extensions—.com or .net—don't express a personal vision or institutional mission. So when the Internet Corporation for Assigned Names and Numbers (ICANN) launched a special program to expand the domain name system, it received 1,930 applications during a brief window in 2012. More than 1,000 extensions, also known as strings, have been rolled out, resulting in some 28 million new domain names registered worldwide, according to the Domain Name Association.
You will find .law and .bank, as well as .mom and .shop. Some names have sparked bidding wars, selling for millions of dollars at special auctions. For example, .web fetched $135 million at auction, while .vip sold for $3 million, according to ICANN.
"Now you can have meaning on both sides of the dot," said Jeff Sass, chief marketing officer at .Club Domains LLC, which registered 800,000 domain names in three years. "It's an important part of your online identity, marketing, and branding because it makes it easier for people to find you."
Tracking Provenance
For Kasimov, who was born in Azerbaijan and owns a large collection by Azeri artists, .art is about much more than marketing.
"The art market lacks basic infrastructure and standards that exist in any other business," he said. "It's hard to create cash flow."
He knows from experience. In 2010, Kasimov paid about $4.4 million for a portfolio of 32 works on paper by 19th century Russian artist Karl Bryullov. He then set up a mutual fund whose asset was the collection. The fund was listed on the Moscow Stock Exchange and investors could buy shares for as little as $10,000, Kasimov said. He didn't sell any.
Part of the problem was that people didn't understand, or trust, what they were investing in. With an .art domain name, Kasimov hopes that a level of public certainty will be brought to provenance, ownership, and value. Each domain name registrant has to provide basic information (name, address, email, phone number, and so forth) that effectively creates the title for the owner. Similarly to liens and real estate deeds, this WHOIS data leaves a public trace. 
Opening Doors
That's where things get interesting. The data list information about an individual or an entity behind the domain name. But the form can be amended, and Kasimov decided to add parameters describing the physical characteristics of art objects such as size, year of creation, medium, name of the artist, and potentially, price history—which effectively amounts to a digital provenance.
This new set of data could be built upon and used by auction houses, galleries, and collectors to determine the value of an object.
"You can use the title technology in connection with cultural objects," Kasimov said. "It will remain there forever."
Before it's here, it's on the Bloomberg Terminal.
LEARN MORE