Sainsbury Shares Slide as Concerns Build Over Retailer's Outlook
By
Grocery margins fall for third consecutive year as prices rise

Risk of consumer spending drop looms over retailer: analyst
J Sainsbury Plc shares posted their biggest decline in almost six months as the U.K. grocer's ebbing profitability called into question its ability to withstand a potential downturn in consumer spending.
Amid fierce competition in the British grocery market, Sainsbury's operating margin fell to 2.4 percent in the latest fiscal year. That overshadowed a better-than-expected profit contribution from general-merchandise chain Argos, which the supermarket operator took over in September. The stock fell as much as 6.1 percent.

Amid tough competition from discounters, the U.K.'s major grocers have struggled to pass along higher costs stemming from a fall in sterling since the U.K. voted to leave the European Union. Data from researcher Kantar Worldpanel showed Wednesday that Sainsbury's food sales are trailing rivals Tesco Plc and Wm Morrison Supermarkets Plc. A possible period of consumer uncertainty ahead of next month's general election and two years of Brexit negotiations could hit Argos and Sainsbury's lending arm.
"Looking ahead, the risk is that Argos and Sainsbury's Bank are impacted by a U.K. consumer retrenchment at the same time as gross margin attrition worsens in supermarkets," James Grzinic, an analyst at Jefferies, said by email.
The pressure on Sainsbury's margins undermines the view among some investors that rising food prices would help an industry that's struggled to end a deflationary cycle, Grzinic said.
Sainsbury shares were down 5.6 percent to 263.9 pence at 4:13 p.m. in London, trimming this year's gain to 5.9 percent.
With no letup in competition in its grocery business, investors are fearful of the consequences for Argos -- which sells everything from televisions to jewelry -- should British consumers rein in spending. Sainsbury's Chief Executive Officer Mike Coupe acknowledged that economic conditions may worsen, but said consumers were still shopping.
"Growth in disposable incomes has started to slow," Coupe said at a press conference. "History shows us that when that happens people defer things they don't need to buy, but we're not at that stage yet."
To mitigate cost increases as a result of the drop in sterling and a new U.K. minimum wage, Sainsbury said it's helping suppliers improve their productivity and scrapping night shifts in hundreds of supermarkets. The retailer, which previously announced a goal of cutting expenses by 1 billion pounds ($1.3 billion) over six years, said it's on track to deliver half of that reduction by the end of its current fiscal year.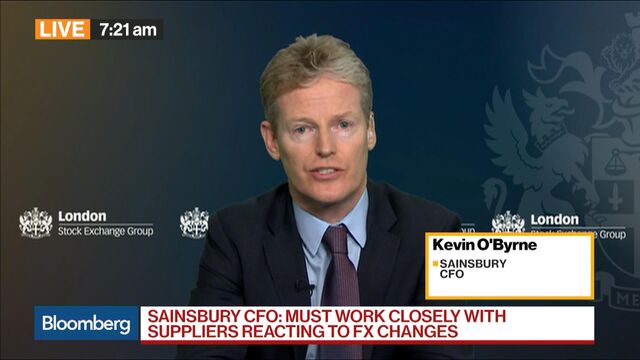 "Complexity has crept into our business over the years," Chief Financial Officer Kevin O'Byrne said in an interview with Bloomberg Television. "We are trying to cut costs everywhere without impacting customer service."
Underlying pretax profit for the 12 months through March 11 fell 1 percent to 581 million pounds. It was the third straight year of declines in pretax earnings, but was in line with the 580 million-pound average estimate of nine analysts surveyed by Bloomberg.
Without a 77 million pound contribution from Argos, the company's group profit would have fallen 16 percent. The grocer has added 59 Argos concessions in its stores.
"What began as a bolt-on acquisition has turned into a lifeboat," John Ibbotson, director of consultancy Retail Vision, said by email.
Before it's here, it's on the Bloomberg Terminal.
LEARN MORE