Sage to Sell U.S. Payments Unit, Flags Brexit Risk to Hiring
By and
U.K. company to keep U.K. & Ireland and South African business

Software company to continue strategy of bolt-on acquisitions
U.K. software company Sage Group Plc has concluded a review of its global payments business and has put its U.S. arm up for sale.
Sage confirmed that U.S. division Sage Payment Solutions, which helps merchants process and manage card and mobile payments, is now classified as an asset held for sale and a discontinued operation, in a trading statement Wednesday.

However, it added that the U.K. & Ireland and South African payments businesses would remain part of the group.
The company is also monitoring the knock-on effects from the U.K.'s exit from the European Union, as the U.K. government seeks to cut annual net immigration from near record levels.
"We'd love to be able to fish in a much bigger pond," said Chief Executive Officer Stephen Kelly said in an interview with Bloomberg Television. "We'd love to get Indian, Chinese, and American talent, and that's much more difficult in the current environment."
Shares of Sage were up 2 percent at 698 pence at 10:11 a.m. in London after gaining as much as 4.5 percent, the biggest jump in 10 months.
The Newcastle, England-based company develops, publishes and distributes accounting and payroll software and, along with Micro Focus International Plc, is one of two remaining technology stocks in the FTSE 100 after the sale of ARM Holdings Plc to SoftBank Group Corp. last year.
The U.S. payments unit has attracted interest from Worldpay Group Plc, EVO Payments International LLC and Global Payments Inc., people familiar with the matter said in December. Sage is being advised by Raymond James Financial Inc.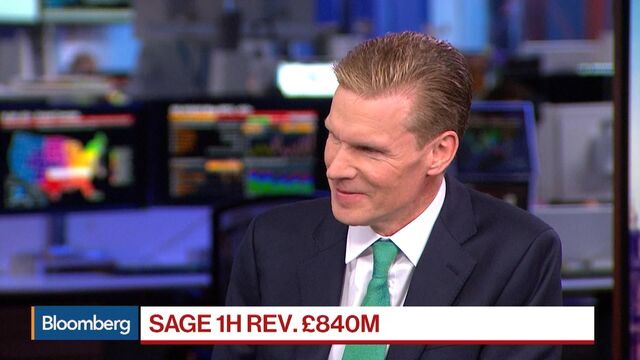 While looking to offload its U.S. business, Sage has been picking up smaller acquisitions. In March it agreed to take full ownership of U.K. software developer Fairsail, and acquired San Francisco-based analytics startup Compass.
The company will rely on organic growth as well as acquisitions, said Kelly, while in the U.S. Sage's priority is continued investment to capture small and mid-sized businesses buying its cloud computing software.
The company said it's confident of exceeding its full-year sales growth target of 6 percent.
Sage's CEO added that British customers who rely on imports have been stung by higher currency costs, whereas exporters are saying "'We've never had such a strong order book'." The pound has lost 11.5 percent over the past year against the U.S. dollar, and 6.1 percent against the euro.
Quotes from this Article
Before it's here, it's on the Bloomberg Terminal.
LEARN MORE