Russian Court Upholds Conviction of Opposition Leader Navalny
By
Decision may complicate Navalny's attempt to run for president

Navalny's defense to appeal ruling in European Court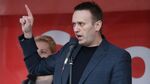 A Russian court rejected an appeal by opposition leader Alexey Navalny Wednesday, confirming an earlier embezzlement conviction in a ruling that could create a new obstacle for his ambitions to run in next year's presidential elections.
The court in Kirov upheld a February ruling by a lower court that found Navalny guilty of embezzlement and sentenced him to five years of probation, state news agency Tass reported. The case had been retried after the European Court of Human Rights had found the original 2013 trial in which he was initially convicted was unfair.
Navalny's lawyer said he would appeal Wednesday's ruling to the ECHR, as well, Interfax reported. Navalny announced late last year he intends to run in the March 2018 presidential election. He has said he has a constitutional right to participate even with the latest conviction, but Russian officials have said he won't be allowed to run because of the verdict.
Navalny has been building a campaign network across the country, with more than two dozen offices opened in cities around Russia. He got a boost of public support on March 26 when tens of thousands of Russians turned out in anti-Kremlin protests in cities all over Russia sparked by a video Navalny's fund had produced alleging corruption by Prime Minister Dmitry Medvedev. He has denied the allegations.
Navalny was attacked last week by a man who threw antiseptic in his face. In a blog post Tuesday, Navalny said he'd lost 80 percent of vision in one eye as a result of chemical burns sustained in the assault but said doctors hope he will recover with treatment. "If it's not successful (alas, that's a possibility), then Russia will have a president with a stylish white eye," he wrote in his blog Sunday.
Gleb Pavlovsky, a political consultant who worked for the Kremlin until 2011, said the authorities appear likely to prevent Navalny from running in 2018, since a campaign could give him too much national exposure even if he lost. "But they're not sure about this," he said. "I haven't seen this kind of uncertainty before."
Before it's here, it's on the Bloomberg Terminal.
LEARN MORE