Eric the Crocodile Is a Steely Problem for China
By
Mount Gibson to revive flooded mine amid premium ore demand

Producer could add partner on possible coal, base metals deals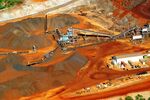 China's demand for higher-quality iron ore is prompting Mount Gibson Iron Ltd. to revive a flooded mine off Australia's northwestern coast -- and that means evicting the market's unlikely bellwether, Eric the saltwater crocodile.
The giant reptile's home, Koolan Island, has been shuttered since the partial collapse of a 75-meter long wall in 2014 saw the mine engulfed by seawater. Now, the Perth-based producer is proceeding with a A$97 million ($73 million) restart amid the steady outlook for prices, continued growth in China's steel consumption and demand from mills for premium ore.
"Nothing I've seen is suggesting that China's consumption of steel is going to go backward, it's just a question of what the growth rate is going to be," Chief Executive Officer Jim Beyer said by phone, adding that the company is continuing to review opportunities to acquire coal or base metals assets to diversify beyond iron ore.
Iron ore surged 81 percent last year because of Chinese demand and even the recent plunge from a two-year high in February to about $67 a metric ton won't be enough to give Eric a reprieve, as Beyer says he expects the commodity will settle and trade between $55 and $65 a ton. The reptile was last forced out of his home in 2006 before Mount Gibson first reopened the mine the following year as prices rose.
"He'll need to move again, he's not going to be too happy," Beyer said in the interview Monday. Koolan Island is located about 1,900 kilometers (1,180 miles) north of Perth, in Western Australia.

Mount Gibson has advanced 64 percent in the past year in Sydney trading and declined Wednesday by 1.4 percent to 34.5 Australian cents.
The producer could contemplate working with a partner, including its largest shareholder Hong Kong-listed APAC Resources Ltd., to target larger deals, according to Beyer, as his company looks to diversify beyond iron ore.
China's demand for higher-quality iron ore is the result of stricter environmental protection regulations and improved profitability of steel mills, Bloomberg Intelligence said in February. Reforms in China's steel sector aimed at cutting capacity also favor premium imported ores, as the remaining mills are lifting utilization rates and need to seek better- quality raw materials to boost production, according to Beyer.
'Shift Away'
"We've seen a shift away from support of the low-grade material, and the high-grade premiums have started to lift reasonably significantly," Beyer said. Mount Gibson is targeting sales by 2019 from Koolan Island, which holds reserves of almost 13 million tons of 66 percent content ore, according to a filing last week.
The operation has an estimated breakeven benchmark price of $46 a ton, the filing said. After lowering costs in recent years, about 90 percent of producers in the global seaborne market can generate profits at a price of $60, according to CRU Group.
The spread between benchmark 62 percent-content ore and the lower-quality 58 percent grade widened to almost $30 a ton in February, and remains well above a spread of about $11 in September, according to Metal Bulletin Ltd. data.
Both Barclays Plc and Goldman Sachs Group Inc. have flagged the prospects for weaker iron ore prices, and Australia's government also put the spotlight on rising production in its latest outlook. Exports from Australia are projected to increase to 920 million tons in 2018, from 903 million this year and 858 million in 2016, according to RBC Capital Markets, which expects Brazilian shipments to expand by almost 100 million tons in the same period. 

Still, the world's two largest miners, BHP Billiton Ltd. and Rio Tinto Group, see room for China's steel output to continue to grow, driven by automobiles and machinery. Continued infrastructure investments ahead of a key meeting of Communist Party leadership later this year will also support demand, according to AMP Capital Investors Ltd.
Resuming operations at Koolan Island, mined for about three decades by BHP until 1993, and restarted by Mount Gibson in 2007, will require construction of a new section of seawall and a 467-meter long seepage barrier. An environmental filing lodged last year also detailed plans to relocate the site's saltwater crocodiles.
The restart is "a significant positive" for Mount Gibson as Koolan Island's higher-grade product should demand a premium to benchmark prices, while expansion studies could extend the site's mine life, Macquarie Group Ltd. analysts wrote in a Monday note.
Before it's here, it's on the Bloomberg Terminal.
LEARN MORE