markets
Gold Miners See Super-Sized Stock Moves on Earning Surprises
By
Agnico Eagle, Kinross claim first-quarter earnings prizes

Rise of ETFs and quants may be exacerbating moves: Wolfson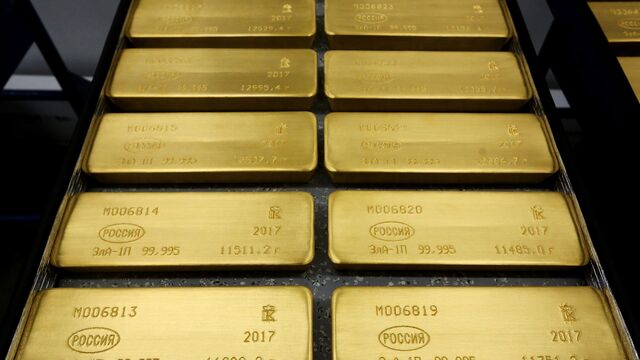 As the earnings season wraps up for North American gold miners, the biggest surprise has been out-sized market reactions, with Kinross Gold Corp. surging the most in almost a year and Barrick Gold Corp. tumbling.
Barrick, the world's biggest bullion producer, lost 11 percent on April 25 in more than double average trading volume after missing analysts' estimates for only the second time in seven quarters. The last time Barrick had such a sizable earnings disappointment, in the first quarter of 2015, its shares rose the next day in average volume.
On Wednesday, Kinross soared as much as 17 percent in heavy volume on a one-cent earnings beat, while fellow Toronto-based miner Agnico Eagle Mines Ltd. jumped 11 percent on April 28, the day after its street-beating results. Agnico Eagle edged out Kinross for the biggest beat over analysts' estimates in percentage terms -- 189 percent higher than estimates.
"We've seen just huge moves," Josh Wolfson, an analyst with Eight Capital, said by telephone from Toronto. "Generally the market has reacted with larger-than-expected movement."
The hefty punishments and rewards haven't been limited to the gold industry. Top U.S. aluminum producer Alcoa Corp. surged as much as 9.7 percent after beating estimates while U.S. Steel Corp.'s surprise quarterly loss spurred a whopping 27 percent drop, its steepest on record.
Handsome Rewards
A miss by Cliffs Natural Resources Inc. sent the iron-ore producer's stock down as much as 13 percent. HudBay Minerals Inc. tumbled as much as 12 percent Thursday, the most intraday in more than a year, a day after reporting earnings and revenue that trailed estimates.
"If you had even a nominally good result you got very handsomely rewarded for it. If you had nominally negative results you got brutally punished for it," Michael Siperco, an analyst with Macquarie Capital Markets, said by phone from Toronto. "At the two ends of the spectrum are Barrick and Kinross especially."
Neither Siperco nor Wolfson offered a clear reason for the dramatic moves, although Wolfson speculated it could be skewed by exchange-traded-fund activity in a market in which volume had slipped over the past year.
"The influence of both the ETF market and the quants have been more meaningful, especially in light of the lower volumes," Wolfson said. "Some of these moves are larger than would otherwise be supported strictly by fundamentals."
Kinross said in an emailed response to questions that investors were reacting to the company delivering on its commitments. A spokesman for Barrick didn't return a call seeking comment.
Yamana Gold Inc. joined the earnings parade with its release after the close on Wednesday. The company missed earnings expectations by a penny and posted revenue below the lowest estimates. Its shares fell 8.3 percent at 11:30 a.m. in Toronto, as gold futures dropped 1.6 percent on the Comex in New York.
— With assistance by Luzi-Ann Javier, and Steven Frank
(
Updates with Yamana earnings in final paragraph.
)
Before it's here, it's on the Bloomberg Terminal.
LEARN MORE