Fed Keeps Rates on Hold as Slowdown in Growth Seen Temporary
By and
Fundamentals underpinning consumption growth stayed 'solid'

Unamious vote in decision that keeps June hike option open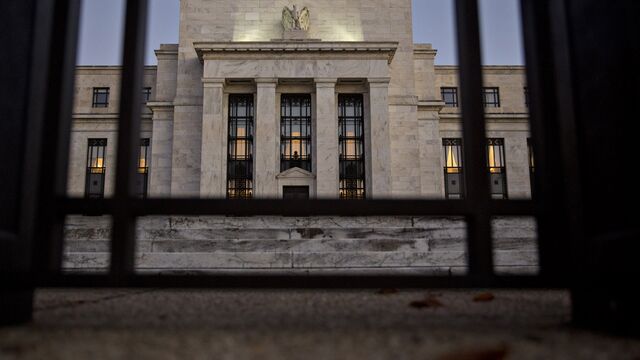 Federal Reserve officials remained on track to gradually tighten monetary policy after leaving interest rates unchanged and signaling they were not alarmed by recent U.S. economic weakness.
"The committee views the slowing in growth during the first quarter as likely to be transitory," the Federal Open Market Committee said in a statement Wednesday following a two-day meeting in Washington. "Near-term risks to the economic outlook appear roughly balanced."
U.S. central bankers were unusually explicit in their statement, indicating that a disappointing first quarter, in which the economy grew at an annualized rate of 0.7 percent, would not knock the committee off its plan to raise rates two more times this year after a hike in March.
"They wanted to send the message," said Ward McCarthy, chief financial economist at Jefferies LLC in New York. "One quarter of unimpressive growth and one month of weak inflation data is not going to cause them to alter an emerging timeline of a rate hike in June and September with the beginning of balance sheet normalization in December."

The Fed didn't signal any change to its balance sheet policy. It is discussing how to begin shrinking its $4.5 trillion in holdings, and officials have said they hope to release a plan this year. They may start unwinding by the end of 2017, though that hinges on economic conditions.
The jobless rate has fallen to a level officials see as consistent with their maximum-employment mandate, and inflation is closing in on the Fed's 2 percent goal. A core measure that strips out food and fuel fell to 1.6 percent, based on Commerce Department data, but headline price gains stood at 1.8 percent in March.
"Inflation measured on a 12-month basis recently has been running close to the committee's 2 percent longer-run objective," the Fed said. Household spending rose "only modestly" but the fundamentals underpinning consumption growth "remained solid."
"The statement makes it very clear that the Fed does not take the reported slowdown in first-quarter growth seriously," Ian Shepherdson, chief economist at Pantheon Macroeconomics Ltd., wrote in an email to clients.
Fed-Speak Friday
The decision to leave the target federal funds rate unchanged in a range of 0.75 percent to 1 percent was unanimous and widely expected by investors. Fed Chair Janet Yellen did not have a press conference after this meeting. But she and at least five other Fed officials are scheduled to speak on Friday, giving policy makers a chance to explain their decision more fully.
Employers continued to hire at the start of 2017, averaging 178,000 net new jobs a month in the first quarter, and wage growth has begun to move up, suggesting tightness in the labor market. The unemployment rate was 4.5 percent in March, near or below most estimates for its longer-run sustainable low.
The Fed's next meeting will take place June 13-14 in Washington. That decision will come alongside officials' updated quarterly economic projections and will be followed by a press conference with Yellen.
— With assistance by Vince Golle, Steve Matthews, and Craig Torres
Before it's here, it's on the Bloomberg Terminal.
LEARN MORE