Duterte Tax Plan Delayed as Lawmakers Worry About Backlash
By and
Increased excise on fuel and cars would hurt low income voters

Revenue gains may be diluted by legislative bargaining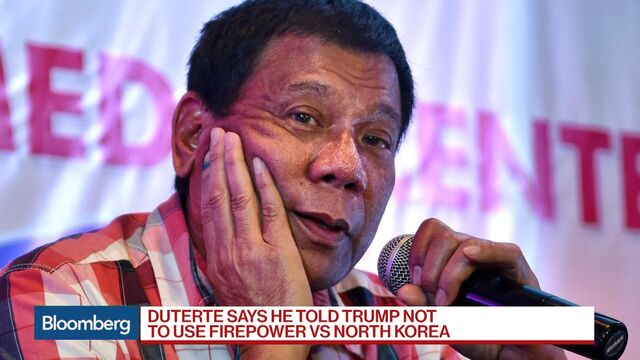 President Rodrigo Duterte's plan to raise taxes to help fund a $180 billion infrastructure program in the Philippines faces significant delays as lawmakers worry about a backlash from voters.
Duterte's economic team had hoped Congress would pass the first tax package shortly after June to raise an estimated 163 billion pesos ($3.2 billion) a year in revenue, equal to about 1 percent of gross domestic product. At least two senators said they doubt that will happen.
"The tax package is a bit controversial because they've included an increase of the excise tax on fuel, which will impact a lot on everyone, not just the richest of society but also the poorest of the poor," said Juan Miguel Zubiri, a senator aligned with Duterte. "That's where the difficulty is coming into the tax reform measure."
To help offset the impact on middle to low income earners, the package also proposes cutting income taxes.
With only a quarter of the Philippines linked by paved roads, leaving the rest vulnerable to heavy rains that regularly inundate parts of the country, Duterte made fixing the country's chronic infrastructure problems a key pledge when he took office almost a year ago. A survey by the World Economic Forum cites inadequate infrastructure supply as the second most problematic factor for doing business in the country.

Senate minority leader Franklin Drilon said he didn't think the tax reform would be passed this year. The bill, which the Inquirer reported on Wednesday was passed by the House of Representatives' Ways and Means Committee, will need majority approval at the lower chamber before it gets to the Senate.
"We haven't even seen any legislation yet," Drilon said in an interview. "I don't think it will be possible for the administration to get it through this year in the time we have left."
With one of the lowest tax ratios in Southeast Asia, authorities are under pressure to boost revenue to keep the budget deficit under control at 3 percent of GDP and prevent the nation's hard-won credit rating from falling back to junk.
Duterte's Support
Any delay or attempt to water down the tax reform may not only curb the rollout of new infrastructure, but also diminish growth prospects for one of the world's fastest expanding economies.
It's also a test of Duterte's support almost a year after his election victory. More than 200 lawmakers from different parties in the lower house of Congress coalesced behind him to form a "super majority", while 18 of the 24 lawmakers in the Senate are aligned with the majority bloc.
With midterm congressional elections due in May 2019, Zubiri said he was concerned by Duterte's reluctance to take the heat off them by spending his own political capital to sell the package to voters.
Broadening the tax base demonstrated "great fiscal responsibility," Zubiri said, but it was terrible politically. "You want to touch it with a 10-foot pole."
"It's not a surprise that they're running into some kind of trouble," said Gareth Leather, senior economist at Capital Economics Ltd. in London. "It's always the case that tax rises are never going to be popular, especially if you don't have the full blown support of the president."
Priority Bills
House of Representatives Majority Leader Rodolfo Farinas said in a text message on Tuesday that Congress didn't include tax reform on a list of priority bills that could be passed before Duterte's July state of the nation speech because there was not enough time.
The tax plan is spearheaded by Finance Secretary Carlos Dominguez, who has warned of risks to the nation's investment-grade credit rating if the plan isn't approved. Duterte threw his weight behind Dominguez in March, telling lawmakers he had "promises that I must deliver."
"Tax reform is a difficult measure," Dominguez said in an interview on Thursday in Yokohama. But "businesses have been quite supportive and Congress has shown they are up to the task."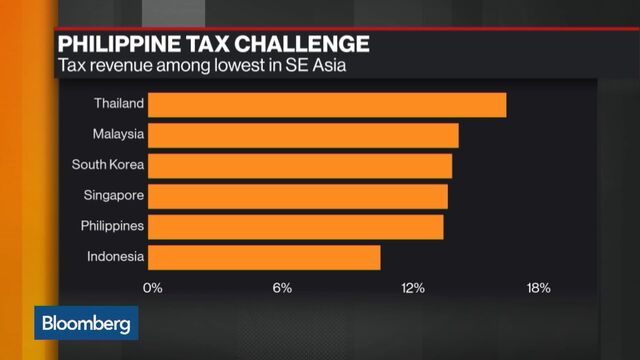 'An Investment'
While the tax hikes and changes to various business incentives may not be popular with some sectors, Philippine Chamber of Commerce and Industry President George Barcelon said that overall his members were supporting the package.
"We are in favor of it," Barcelon said in an interview. "Because if you look at spending as a percentage of GDP both in education, health services and infrastructure, we're behind other countries. So for us, it's an investment."
Barcelon said he was not concerned by potential legislative delays. "It's a new Congress and you know how it is," he said. "They seem to need time to feel each other out."
More worrying than any legislative delays was the potential for legislative horse-trading to reduce revenue, said Bob Herrera-Lim, managing director for Southeast Asia at Teneo Holdings and a former chief of staff to a Philippine Senate majority leader.
"Dilution of the expected revenues is our bigger concern," Herrera-Lim said. "As it moves through Congress, we will probably see small cuts here and there to the proposed revenue measures, maybe by reducing the rate on the excise taxes for fuels and automobiles and retaining some of the exemptions from the value-added tax."
Herrera-Lim said a recent pick-up in inflation also meant that the new measures were being debated at a less than optimal time, with lawmakers worrying that tax reform may add fuel to the fire.
"Do you want to have this tax reform agenda, or do we want to just have a status quo," Senator Zubiri said. "We're achieving 6.9 percent growth rate right now with what we have, so maybe it's not necessary to rock the boat in terms of tax reforms."
— With assistance by Clarissa Batino, and Ditas B Lopez
Before it's here, it's on the Bloomberg Terminal.
LEARN MORE