Comey Says It Makes Him 'Nauseous' to Think FBI Might Have Impacted Election
By and
Feinstein says Comey took an 'enormous gamble' ahead of vote

Grassley questions if FBI relied on unverified Trump dossier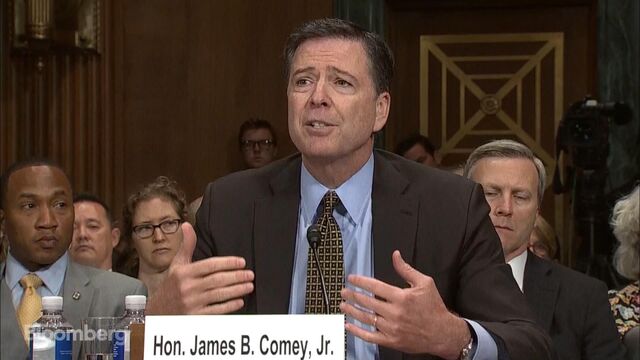 FBI Director James Comey defended his decision to reveal that the agency was restarting its probe into Hillary Clinton's email use just days before last year's election while not disclosing a separate probe into the Trump campaign's ties to Russia.
And he said he'd do it all again, even though it may have affected the presidential race.
"It makes me mildly nauseous to think we might have had some impact on the election," Comey told the Senate Judiciary Committee on Wednesday. Yet in reviewing his decision, he said, not disclosing the probe "would have been catastrophic."
Comey's defense came a day after former Democratic candidate Clinton said that the FBI chief's move along with Russian meddling cost her the presidency. Comey addressed the Senate panel as the bureau continues to investigate the Russian role in the campaign but said he wouldn't say a "peep" more than he already has about that probe.
The director's decision-making in the two probes brought harsh questioning from members of both political parties. Committee Chairman Chuck Grassley of Iowa pressed Comey over what the Republican lawmaker called "materially inconsistent" responses from the FBI on how much its Russia probe has relied on unverified sources, including an unsubstantiated and salacious dossier on Trump's links and activities in Russia before his candidacy.
'Conspiracy Theory'
"Much of the dossier has been proven wrong," Grassley said, asking if the FBI had paid for access to the report and warning that the agency's credibility was at stake. "We need to know if there was anything improper between the Trump campaign and the Russians" or if people are merely "chasing a conspiracy theory," he added.
Twists and questions in the Trump-Russia saga -- a QuickTake Q&A
Ranking Democrat Dianne Feinstein of California disputed Comey's decisions on the inquiry into Clinton's use of a private email server when she was secretary of state.
It's still "very unclear" why the FBI's actions on the Trump and Clinton investigations were "so dramatically different," she said. "I join those who believe that the actions taken by the FBI did in fact have an impact on the election."
'Enormous Gamble'
"You took an enormous gamble: the gamble was that there was something there that would invalidate her candidacy. And there wasn't," she said.
Comey defended his decision last year to announce, by reading a lengthy statement, the bureau's initial conclusion in its investigation of Clinton's emails. At the time, Comey bluntly criticized Clinton's conduct, saying she and her aides were "extremely careless in their handling of very sensitive, highly classified information" but that no criminal prosecution should be pursued.
"I knew there would be ramifications but I tried not to care about them," he said, saying transparency was important to making the conclusions credible.
He added that his decision to go public followed events in the spring of 2016 that made him worry whether then-Attorney General Loretta Lynch and Justice Department leaders could bring the Clinton investigation to a credible conclusion. He said those developments, which he declined to describe, made him believe that they couldn't close the probe without creating "grievous damage" to the public's confidence in the Justice Department.
Tarmac Meeting
He said his decision to go public was finally made after Lynch and former President Bill Clinton had what they called an impromptu social meeting aboard a government airplane in Arizona while the FBI probe was still underway. Lynch later apologized for having the meeting and said she would accept the FBI's recommendation in the Hillary Clinton probe.
That explanation didn't satisfy Democrats who say Comey simply should have said he didn't have evidence to prosecute.
Comey said he also felt compelled to announce on Oct. 28, less than two weeks before the election, that the agency reopened its investigation into Clinton because of newly discovered emails, which later turned out to hold no significant surprises.
And he defended his decision not to disclose the Trump campaign investigation before the election. He said he didn't comment on the Clinton probe until it was over and determined it would be improper to disclose the Trump campaign probe, which had just gotten started. 
"My goal was to say what is true," he said of his Clinton press conference. "I tried to be as complete and fair as I could be."
He confirmed reports that he offered to write a newspaper op-ed article in August warning of Russian attempts to interfere in the election but said the Obama administration declined at that point to take him up on the offer.
Comey also declined to comment on a push by Senator Richard Blumenthal of Connecticut for a special prosecutor in the Russia probe, saying that's a decision for Deputy Attorney General Rod Rosenstein, who took office late last month. Attorney General Jeff Sessions has recused himself from the inquiry.
Pressed about FBI leaks allegedly made to the media and officials associated with Trump's campaign last year, including former New York Mayor Rudy Giuliani, Comey said there would be "severe consequences" if any FBI agents were found to have disclosed information improperly.
Russian Aim
While the Clinton probe closed last year, the FBI is continuing to investigate Russia's meddling in the 2016 election, which U.S. intelligence agencies have concluded was aimed at hurting Clinton and, ultimately, at helping Trump win.
Comey disclosed in a March hearing that the FBI's investigation includes "the nature of any links between individuals associated with the Trump campaign and the Russian government and whether there was any coordination between the campaign and Russia's efforts." He also revealed then that the FBI opened its investigation in July -- four months before the November election.
At Wednesday's hearing, Comey said of the Russian probe: "I expect that we're not going to say another peep about it until we're done."
The Russian hacking, and last year's investigation into Clinton's emails, continue to be sore subjects for both Trump and Clinton.
While Trump at one point said he accepted the intelligence finding that Russia was behind the hacking and leaking of Democratic emails, he has pulled back from that conclusion in recent days. It "could have been China, could have been a lot of different groups," he said in a CBS interview that aired on Sunday. "It's very hard to say who did the hacking."
In a Twitter posting late Tuesday, after a phone call with Russian President Vladimir Putin, Trump wrote, "The phony Trump/Russia story was an excuse used by the Democrats as justification for losing the election."
Hours before the phone call, Putin told reporters in Russia that accusations of Russian meddling in the U.S. election were "just gossip" and "were never proven by anything or anybody."
"We never interfere in the political life of other countries," Putin told reporters.
— With assistance by Ilya Arkhipov
Before it's here, it's on the Bloomberg Terminal.
LEARN MORE