Brexit Towns Like This Will Decide If May Wins Big
The Labour stronghold of Walsall is a case study of what's at stake in the June 8 election.
By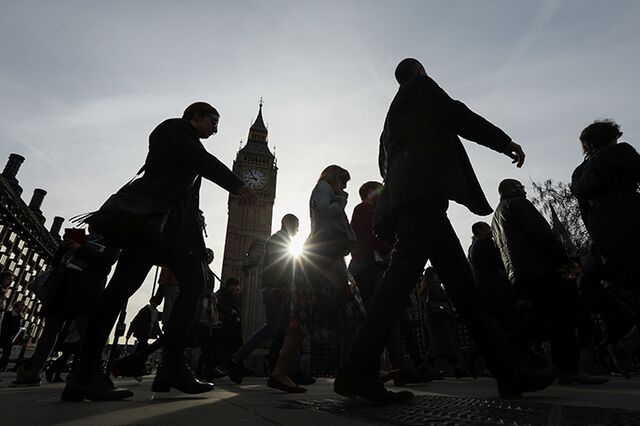 Follow @Brexit for all the latest news, and sign up to our daily Brexit Bulletin newsletter.
In the urban sprawl of the English Midlands, the town of Walsall is famous for making leather goods and little else.
It's in these anonymous places in former industrial heartlands where Britain's desire to leave the European Union was strongest and where Prime Minister Theresa May's decision to send her country back to the ballot box less than a year later will turn out to be masterful or reckless.
Walsall has been a bastion of Labour, the party of government less than a decade ago yet whose disarray led Conservative leader May to call the election. Not since the 1980s has the country been so socially and politically torn, and towns like this must reconcile their ardent support for Brexit with that for May's opponents.

"I voted to leave and this year I'll vote Conservative," said Alan Smith, 61, as he walked with his wife next to the canal in Walsall, part of a network developed during the Industrial Revolution in the late 18th century. "The key for me is Europe. The Conservatives want to leave and Labour want to stay in. Labour say they will leave but I don't believe them."
Maureen Lewis, 53, a community worker for Walsall Black Sisters Collective, an organization that has received funding from the EU, said she voted for Brexit because she wants Britain to run its own affairs. But she will be sticking with Labour to defend the interests of "everyday people."
"Unemployment's high, there's no jobs, young people have got no opportunities," Lewis said as she prepared to pick up a group of children for an after-school club.
Thatcher's Handbag
While the Launer leather factory in Walsall produced handbags for former Conservative Prime Minister Margaret Thatcher, the town never embraced her politics. But Walsall has become a microcosm of how the clash of views might play out for May, and indeed Britain, after the EU set out its united position on Brexit last weekend.

By calling the June 8 election, May's stated aim is to strengthen her mandate for what both sides say will be tough and protracted negotiations.

The Conservative campaign has majored on the threat of Labour backsliding over Brexit. Opinion polls show Labour under leader Jeremy Corbyn trailing by as much as 20 percentage points.
The question in the election is how much of Labour's support will collapse and what happens to the votes for the U.K. Independence Party, whose flagship policy is to leave the EU. Now that's happening, May's Conservatives are expected to benefit. Research by University of Kent academic Matthew Goodwin shows 31 Labour districts are at risk if just half of UKIP's voters switch to May.

Walsall voted to leave the world's largest trading bloc by 68 percent to 32 percent. Its two lawmakers, both Labour and opposed to Brexit in the referendum last year, are defending majorities that are anything but unassailable.
In the Walsall North district, Labour's David Winnick, 83, won by fewer than 2,000 votes at the last election. While he has held the seat since former Conservative leader Margaret Thatcher won office in 1979, May needs just a quarter of UKIP voters to switch to take the seat. Valerie Vaz, 62, in Walsall South has a bigger cushion, with the Conservatives needing a swing of just over 3,000 votes.
'Down, Down, Down'
Walsall built up as a center for craftsmen in the 1800s and provided saddles, harnesses and leather goods to armies and royalty around the world. It has felt the effects of globalization and increased unemployment, factors that helped drive the vote for leaving the EU.
"Overall the economy for 10 years it's been bad — everything's gone down, down, down," Mohammed Ishtiaq, 50, said at the fast-food outlet he runs in the town. The closure of a nearby bakery, which employed 400 people, hit his business and he voted to quit Europe in the referendum last year. "Rich people did well out of Europe, not ordinary people," he said.

Like up and down the rest of England, the biggest threat to both Labour and the Conservatives could be apathy. This will be the third major vote in Britain in about two years. May has repeatedly warned against complacency and Labour is appealing to party members to help get out the vote.
Brian Cornfield, 79, who has a job making cardboard boxes after spending most of his working life in the leather trade, was a lifelong Labour voter — until now. He also wants to restore the death penalty. "This time I won't bother. I can't see what's being done," he said. "They won't do what I want anyway, I want to bring the hanging back. I don't know what to think of any of them."
Outside the Launer factory, where handbags are still made for Queen Elizabeth II, Mandy Amos, 46, said she will be busy doing other things on June 8. She doesn't like May. "To me she's like a female version of Donald Trump,'' Amos said as she passed by with her daughter and grandchild. "They all offer promises and dreams for the public and I like to live on my own promises and my own dreams."
Before it's here, it's on the Bloomberg Terminal.
LEARN MORE