Brazil's Temer Clears First Hurdle in Pension Reform Push
By and
Lower house committee approves reform bill by 23 votes to 14

Vote on bill amendments halted as protesters storm committee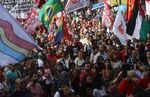 Brazil's long-awaited pension reform bill has passed its first legislative hurdle, after a day of fierce debate, procedural wranglings and last-minute revisions.
A special committee of the lower house voted 23 to 14 in favor of the base text of the legislation on Wednesday evening. Lawmakers were still voting on amendments to the bill when protesters stormed the committee, forcing the session to be suspended. The proposed changes need to be accepted or rejected by the committee before the bill goes to the Chamber of Deputies.
The committee will resume voting next Tuesday, its president Carlos Marun told Valor Economico newspaper.
Pension reform is President Michel Temer's most meaningful attempt at fixing Brazil's battered public coffers. It is proving a tough sell for Brazilians reeling from the worst recession on record, as well as for lawmakers seeking re-election next year. While it was widely expected to pass the committee stage with ease, attracting the three-fifths majority it needs in two separate votes in both the lower and upper house may be more difficult. More than seven out of ten Brazilians oppose the proposal.
As the result came through, opposition legislators broke out into chants, including a song accusing government supporters of betrayal.
"The result was good for the government," Brazil's chief of staff Eliseu Padilha told Bloomberg. "It was strictly within the margin expected."
The Brazilian real has gained more than 10 percent over the past 12 months on reform hopes. It weakened about 0.5 percent early on Thursday as the bill's approval, widely anticipated by traders, failed to spur additional gains.
Over recent weeks, the government has offered numerous concessions in an effort to secure lawmakers' support. On Wednesday Finance Minister Henrique Meirelles said that the bill as of Tuesday would keep 76 percent of the savings envisaged in the original proposal. Private sector estimates consistently forecast lower savings than those predicted by the government.
— With assistance by Gabriel Shinohara
Before it's here, it's on the Bloomberg Terminal.
LEARN MORE