Bernanke Questions Strategy and Timing of Trump Tax Cut Plans
By
Former Fed chair says reappointing Yellen would be 'sensible'

Expects Fed's balance sheet wind-down to go smoothly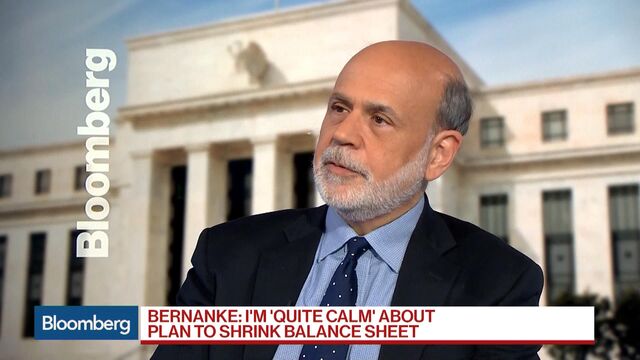 Former U.S. Federal Reserve Chairman Ben Bernanke said the Trump administration's plans to cut personal tax rates appear ill-timed and may do little to spur a higher rate of economic growth.
"It would have made more sense to have more tax cuts and more spending in 2013 or 2012," Bernanke said in an interview on Bloomberg Television. "From that perspective with unemployment at 4.5 percent, the case today is a little weaker."
Bernanke, who helped steer the economy through the darkest days of the financial crisis, said it would be more helpful for the administration to concentrate on policies that might boost supply, rather than fueling demand.
"Why not think about improving the efficiency of the corporate tax code, or doing infrastructure that I think would have more direct effects on supply and potential output than a personal tax cut?" he said.
The administration has placed an overhaul of the tax system -- describing it as the biggest reform in history -- at the top of its legislative agenda. A blueprint released last week includes proposals to slash taxes for business and individuals, simplify the system for filers and close loopholes for the rich, relying on faster economic growth to help offset lost revenue.
Bernanke said it would be "reasonable and sensible" for President Donald Trump to re-appoint his successor, Janet Yellen, for another four years at the helm of the Fed when her term as chair expires in February.
"She's obviously highly competent, she's done a good job, she's got the confidence of the markets," he said.
Yellen's Future
Yellen took over as chair in early 2014 after Bernanke finished two, four-year terms. Though Trump criticized her during the election campaign, the president recently said he would consider keeping Yellen on.
While Bernanke didn't comment on the outlook for interest-rate increases this year, he said he expected the Fed would be able to unwind its $4.5 trillion balance sheet without disrupting financial markets. His remarks came shortly before the Fed announced its decision in Washington to keep interest rates on hold and stay on a gradual tightening path. In the statement, Fed policy makers didn't signal any change to their balance-sheet policy.
"There are legitimate questions about how big it should be ultimately, but there seems to be no concern, certainly not much visible in markets, that the unwinding part is going to be very difficult," he said.
Minutes of the Fed's March policy meeting showed officials were keen to begin that process as early as this year, but would proceed cautiously and gradually.
— With assistance by Saleha Mohsin, and Tom Keene
Before it's here, it's on the Bloomberg Terminal.
LEARN MORE