ADB and AIIB Cooperate on Lending More Than Compete, Says Nakao
By and
The lending organizations can work to co-finance good projects

Thinks U.S. will not abandon the international trading system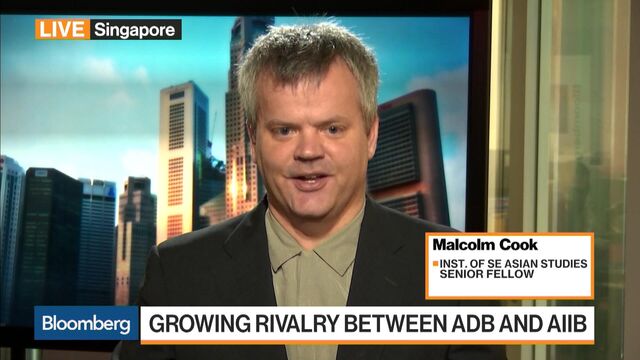 The Asian Development Bank and the Beijing-based Asian Infrastructure Investment Bank cooperate more than compete, said ADB President Takehiko Nakao in an interview on Wednesday with Bloomberg TV.
There is a massive need for infrastructure spending in Asia, including to address the impact of climate change, he said. "We can cooperate by co-financing good projects together," Nakao said, adding that he meets with AIIB President Jin Liqun regularly to discuss opportunities for co-financing.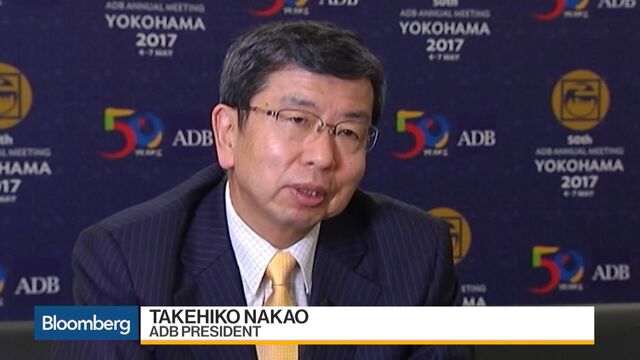 At least two of the 12 projects the AIIB has approved since 2016 were in partnership with the ADB. Japan and the U.S. both decided not to join the $100-billion China-backed development bank, which now has 70 approved members. There were initial concerns that the it wouldn't follow international lending practices, but Nakao said that's not happening.
"I think they are pursuing international standards," he said of the AIIB, noting that many member countries in the AIIB are focused on them. He said that the ADB is trying to support the AIIB in pursuing international standards based on lessons it has learned in its 50 years of lending experience.
Read more on the relationship between the two development banks
Nakao also predicted that the U.S. wouldn't abandon the international trading system under President Donald Trump, despite Trump's previous accusations against major trading partners like Japan and China.
"Of course there can be some adjustments," he said. "But it doesn't mean the United States will walk away from free trade, because it's to the benefit of the United States, not just to Asia."
Before it's here, it's on the Bloomberg Terminal.
LEARN MORE