politics
Zuma Booed at Union Rally as Drive to Oust Him Gains Energy
By and
President's May Day rally speech canceled after being booed

Ramaphosa's presidential ambitions bouyed by union support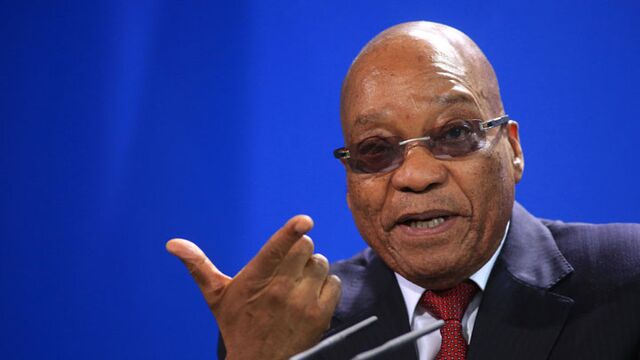 South African labor unions that helped President Jacob Zuma win control of the ruling African National Congress a decade ago have turned on him, adding to the tide of opposition to his rule as his term as party leader draws to a close.
Planned speeches by Zuma, 75, and others were canceled on Monday when members of the main labor federation that backs the ANC, the Congress of South African Trade Unions, booed him at May Day celebrations in the central city of Bloemfontein. Two Zuma allies, ANC Chairwoman Baleka Mbete and Deputy Secretary-General Jessie Duarte, were also heckled at other Cosatu rallies.

After defending Zuma through a series of scandals that have dogged him since he took office in May 2009, Cosatu leaders called for his ouster after he fired Pravin Gordhan as his finance minister on March 31 -- a move that prompted S&P Global Ratings and Fitch Ratings Ltd. to downgrade the nation's credit rating to junk. The 1.8-million-member federation has endorsed Deputy President Cyril Ramaphosa to become the ANC's next leader. Zuma has indicated his support for Nkosazana Dlamini-Zuma, his ex-wife and the former chairwoman of the African Union Commission.
ANC's Disconnect
"The political space for Jacob Zuma and his allies is closing," Daniel Silke, director of Political Futures Consultancy in Cape Town, said by phone. "His brand is slowly being chipped away, and by implication so is that of his preferred successor, Nkosazana Dlamini-Zuma. There is a substantial disconnect between the ANC and its alliance partners."
Besides the unions, ANC veterans, the South African Communist Party, church and civil-rights groups have called for Zuma to resign or be fired. The president has said he won't quit before the end of his current term unless the ANC orders him to do so.
"Public displays of disunity broker no victors and only serve to weaken the alliance as a whole," the ANC said Tuesday in an emailed statement.
Zuma and his administration have shown themselves to be unresponsive to the widespread and mounting public outrage about corruption and a lack of accountability within the government, said Sydney Mufamadi, a former cabinet minister and director of the School of Leadership at Witwatersrand University in Johannesburg.
"There are signs of an increasing reliance on what I call truculence, you dig in, you don't care what people think, they will have to accept you for what you are and you show insensitivity to other people's feelings about you," Mufamadi said. "We have never in our political lifetime gone through a period as difficult as this one."
Ramaphosa Boost
The 105-year-old ANC, which has ruled Africa's most industrialized economy since apartheid ended in 1994, is due to elect a new leader at a Dec. 16-20 conference in Johannesburg. The winner will be the odds-on favorite to succeed Zuma as president when he steps down in 2019. Dlamini-Zuma has received support from the ANC's women's league and parts of its youth wing.
The fact that ordinary grassroots union supporters publicly voiced their opposition to Zuma while they cheered Ramaphosa, a former union leader turned businessman, at an event in the eastern Mpumalanga province, is a boost for the deputy president's campaign, according to Abdul Waheed Patel, the managing director of Cape Town-based Ethicore Political Consulting.
"It reflects the fact that Cosatu are fully behind the Ramaphosa bid," Patel said. "It makes him seen as someone who's not just got the ear of the business community, but also of the working class."
(
Updates with ANC comment in third paragraph below ANC's Disconnect subheadline.
)
Before it's here, it's on the Bloomberg Terminal.
LEARN MORE