Why Currency Traders Should Literally Follow Trump Tweets
By
Deutsche Bank finds Trump tweets have 'low' impact on FX

When tweets do have an effect, moves continue for four hours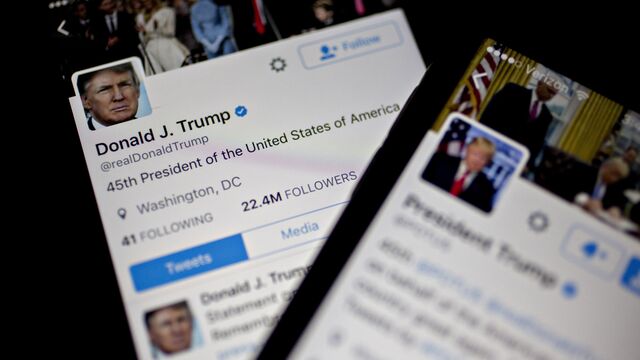 When Donald Trump moves the foreign-exchange market with 140 characters or less, currency traders ought to jump on for the ride. 
That's the conclusion of a Deutsche Bank AG examination of how the president's comments on Twitter affect the value of the U.S. dollar versus the yen, which is seen as the most responsive to potential changes in U.S. policy because of its perceived safe-haven status. The president's proclivity for tweeting -- and the ensuing jolts of volatility to largely placid markets -- have been a boon for currency traders, causing transaction volumes to soar in some instances.
And @realDonaldTrump proclamations that spark a move of at least 25 pips in the currency pair over the next hour have seen that trend continue in the immediate future.
"Of those tweets, all have seen moves extend over a four-hour period and in none have moves been reversed over a 12-hour period," Oliver Harvey, a London-based macro strategist at Deutsche Bank, wrote in a report Tuesday.

The connection between Twitter and the trade-weighted dollar is not of trifling consequence. As Harvey's colleague, macro strategist Alan Ruskin, predicted after the election, "the U.S. dollar will not be subject to benign neglect" under this administration. Trump's stated goals –- shrinking the trade deficit as well as bringing back factories from Mexico and China -– become easier to achieve on the margin with a weaker greenback.
The social-media platform is already fertile ground for investors (and even some ETFs!) looking to gain an edge in their trading decisions, and is undoubtedly one of the president's favorite ways of communicating with the public.
But Trump's ability to influence the world's largest financial market via Twitter is limited, much as his position as head of state doesn't give him the unfettered ability to implement his legislative agenda.
"The impact of Trump's tweets on the foreign-exchange market has been low in aggregate," writes Harvey. "The market also appears to be paying less attention."

Some of the largest reactions in dollar/yen came during tweets shortly following the election and inauguration, though his more recent comments on North Korea have also captured the attention of traders.
Perhaps Trump and his surrogates could have a bigger impact on the currency market by going through the mainstream media sources that Trump often criticizes. The president's remarks on April 12 to the Wall Street Journal that the dollar was "too strong" sent the greenback tumbling versus the yen, contributing to a three-session losing streak for the pair.
Before it's here, it's on the Bloomberg Terminal.
LEARN MORE