Valeant Ponders a Name Change to Try and Escape Past Reputation
By and
'We are looking at alternatives,' CEO says at annual meeting

Drugmaker's shares down more than 95 percent amid criticism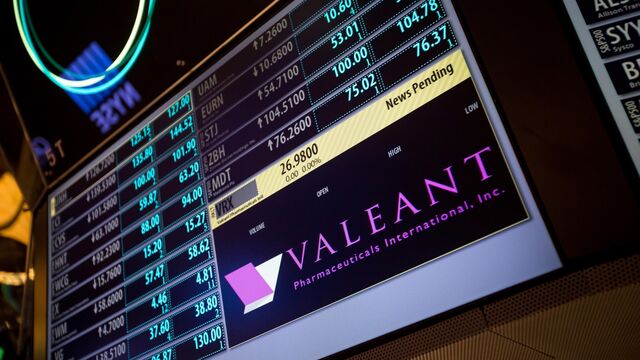 Valeant is ready to move on from "Valeant."
Chief Executive Officer Joe Papa said that Valeant Pharmaceuticals International Inc. is considering a name change after a two-year stretch that has seen the company lose more than 95 percent of its value amid harsh criticism of its business practices and future prospects.
"We have thought about our name," Papa said at the company's annual meeting Tuesday in Laval, Quebec. "We are looking at the alternatives." He cited the bad publicity the company has experienced as a consideration.
No final decision had been made but the company is "very serious" in considering the idea, Papa said.
There's a long history of corporate name changes after scandals, reputational blows or other negative associations. In 2003, tobacco giant Philip Morris changed its name to Altria Group Inc. after a tobacco litigation settlement. Isis Pharmaceuticals Inc. changed its name to Ionis Pharmaceuticals Inc. in 2015, shedding the association with the violent group in the Middle East. And Security contractor Blackwater Worldwide changed its name to Xe Services after a controversy around a shooting in Iraq that killed civilians.
Fresh Start
"Surprisingly enough, a strategy like that can sometimes work," Bob Killian, the founder of Killian Branding, said by phone. "We've talked about our scandal -- jingling the keys now -- here's the new shiny object, our name change."
A fresh name would be welcome to investors, said Tim Chiang, an analyst with BTIG.
"Valeant has so many connotations with its past, they're trying to get away from that, I think it might be important for their customers to change it," he said in a telephone interview. "You look at other companies that have gone through a very tumultuous period of time and they too have changed their names."
Vicki Bryan, a credit analyst with Gimme Credit LLC who has been critical of Valeant, thought the company should wait. "Understandable but likely too soon," she said on Twitter. "Better to get past most of the pain so 'new' name not tainted."

An outside spokeswoman for Valeant declined to comment on the timing of a potential name change or what new names might be under consideration.
Valeant is attempting a turnaround under Papa, who took over last year after ex-CEO Mike Pearson left. Papa has promised to sell off some assets and pay down debt, and invest in the company's business. At the company's annual meeting, he went over the plan to start selling new products and strengthen the balance sheet.
During the meeting Tuesday Papa said the goal was to get the company's $30 billion in debt down to $15 billion to $20 billion. The shares were up 4.6 percent to $10.11 at 11:55 a.m. in New York, after earlier rising as much as 8.6 percent for their biggest gain intraday since Jan. 10.
"They can portray the name change as, 'We've turned the corner, we're paying down the debt and everything's rosy and for that reason we're launching in this direction,'" said Killian.
"To the insiders who are going to be cynical and giggle at it, it's an obvious distraction," he said. "That doesn't mean it won't work."
Quotes from this Article
Before it's here, it's on the Bloomberg Terminal.
LEARN MORE