May's Election Fighting Talk Fuels Brexit War of Words With EU
By , , and
U.K. premier says Juncker learning she's 'bloody difficult'

EU officials not happy with 'unhelpful' leaks of Brexit dinner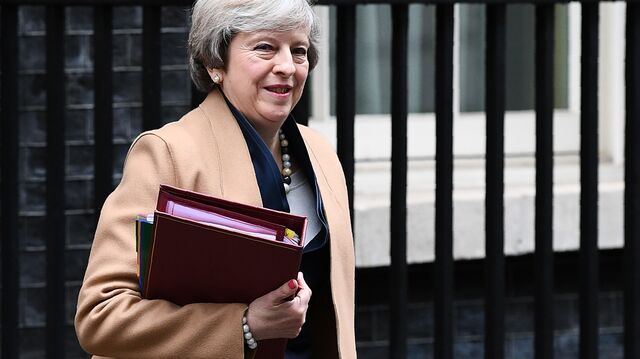 Follow @Brexit for all the latest news, and sign up to our daily Brexit Bulletin newsletter.
U.K. Prime Minister Theresa May vowed she won't be pushed around in Brexit talks with the European Union as her war of words with Brussels escalates before negotiations even begin.
The premier said European Commission President Jean-Claude Juncker is learning she can be "bloody difficult" after leaked details of a dinner meeting between the leaders alleged he was shocked by her approach to negotiating Brexit.
May won a measure of support from several European government officials, who distanced themselves from Juncker's apparent skepticism about the chances of a Brexit deal. The row blew up after details of the allegedly disastrous meal Juncker attended at May's London residence last week were reported by a German newspaper. 
"What we've seen recently is that at times these negotiations are going to be tough," May told BBC television in an interview Tuesday. "During the Conservative Party leadership campaign, I was described by one of my colleagues as a bloody difficult woman. And I said at the time the next person to find that out will be Jean-Claude Juncker."
Election Trail
The clash between London and the European Commission comes as May seeks re-election on June 8 in a campaign defined by Brexit, and the argument won't necessarily hurt her chances.
QuickTake What the U.K. Snap Election Means for Brexit
While EU officials are concerned about such a public dispute ahead of negotiations, it could help May's Tories convince voters the U.K. needs what she calls her "strong and stable leadership" for the Brexit talks. May claims her main rival for power, opposition Labour party leader Jeremy Corbyn, would be too "weak" to succeed at the negotiating table.
Germany's Frankfurter Allgemeine Sonntagszeitung newspaper said on Sunday that Juncker left a dinner on April 26 "10 times more skeptical" of reaching a Brexit deal.
In her interview on the campaign trail, May told the BBC she hopes to agree an accord that works for the U.K. and the EU, saying there's "a lot of similarity" between her proposals and the bloc's negotiating guidelines.
European government officials transmitted cautious optimism about finding common ground with the U.K., without endorsing Juncker's apparently gloomier assessment.
Leaked details of the dinner are "not helpful," Irish government chief whip Regina Doherty said Tuesday. The comments set the "wrong tone" as Ireland wants a "vibrant" trade relationship with the U.K. after Brexit in 2019, she said in an RTE radio interview.
'Not Understood'
A German official expressed unease over the leak and called it unusual. Both Britain and Germany have a keen interest in reaching a Brexit agreement and now isn't the time to prepare for any failure of the negotiations, said the official, who asked not to be named because of the sensitivity of the matter.
A Brussels-based European government official said the article stemmed from unhelpful spin by Juncker's chief of staff, Martin Selmayr, and doesn't reflect the view of EU partners. Everybody has an interest in a Brexit agreement and the decision by May to hold an early election increases the prospects for a deal by giving her more room to compromise, according to the person, who asked not to be named in accordance with policy.
Commission spokesman Margaritis Schinas declined to answer questions Tuesday about whether the report originated from Selmayr, yet cited comments by Juncker on April 29 in which he said the complexity of the Brexit negotiations is underestimated.
"There are issues that clearly are not understood the same way from the technical point of view," Schinas said.
— With assistance by Nikos Chrysoloras
Before it's here, it's on the Bloomberg Terminal.
LEARN MORE