GOP Tries Last-Minute Fix to Prevent Health Bill Collapse
By and
Moderates crafting amendment to gain necessary votes

Mulvaney says House vote may come as soon as Saturday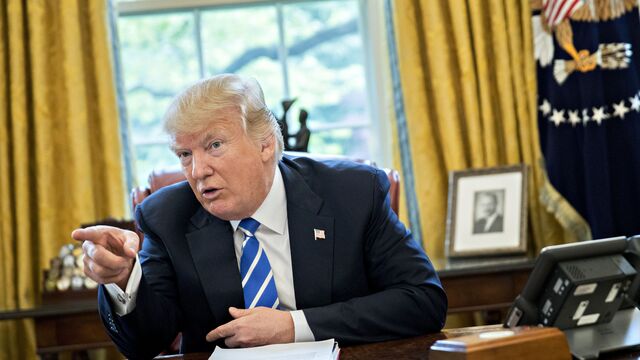 Congressional Republicans are making last-ditch efforts to win over the remaining holdouts on their health-care bill, with moderates pitching a new amendment and the White House saying a vote could come later this week.
Representative Fred Upton of Michigan, who said Tuesday he couldn't support Republicans' Obamacare repeal bill in its current form, is working on an amendment "that nobody has a problem with," House Speaker Paul Ryan said Wednesday on conservative radio host Hugh Hewitt's show. "I feel very good about the progress we're making."
President Donald Trump plans to meet Wednesday to discuss health care with holdouts Upton and Republican Representative Billy Long of Missouri, as well as Mike Burgess of Texas and Energy and Commerce Chairman Greg Walden of Oregon, a White House official said.
The White House earlier signaled optimism, with budget director Mick Mulvaney telling Fox News on Wednesday that the chamber might vote on the health bill as early as Saturday. Mulvaney said he believes the amendment by Upton -- who became perhaps the most significant Republican defection yet on Tuesday -- will help draw moderates' support for the legislation.
The efforts come after Ryan told Republicans Tuesday to "pray" as they try to win over holdouts. Representative Dennis Ross of Florida, a senior member of the House vote-counting team, described Republicans' closed-door meeting and said they are about "five votes away" from the number needed to pass the bill.
Representative Phil Roe of Tennessee said Tuesday that GOP House members plan to hold a closed-door meeting Thursday to decide whether to proceed with a vote this week.
Upton Amendment
Upton's defection was significant because until last year, he was chairman of the Energy and Commerce Committee, which has jurisdiction over much of health-care policy, and he has been a staunch supporter of Obamacare repeal.
Upton's proposal would provide $8 billion over five years to help people with pre-existing medical conditions pay for insurance premiums, the Associated Press reported.
Voters have confronted lawmakers at town hall-style meetings across the U.S. in recent weeks with their concerns about losing health insurance under the GOP plan, giving some moderate Republican lawmakers jitters about backing the measure.
Yet party leaders have pushed to create a sense of urgency among their members to make good on a years-long promise to repeal former President Barack Obama's signature health-care law now that Republicans control Washington.
'Now Is the Time'
"Now is the time," House Majority Leader Kevin McCarthy told House Republicans on Tuesday, adding that they should be prepared to vote Wednesday or Thursday on the measure.
Ryan also tried to boost the pressure on Republican moderates to advance the bill. "This is who we are. This will define us," the speaker told Republicans, according to Ross.
A significant number of moderates remain opposed. A Bloomberg News count found at least 21 members opposed to the latest version. Republicans can only afford to lose 22 votes and guarantee passage. Several Republicans, including Representative Brian Mast of Florida, say they're still undecided.
Upton on Tuesday cited the bill's provision on pre-existing conditions as a reason for his defection. Under the bill -- prior to the amendment he is now working on -- states could allow insurers to charge higher premiums for people with pre-existing conditions who have had a gap in coverage of at least 63 days in the prior year. States could also let insurers charge older customers more than the original bill allowed -- at least five times more than younger ones, beginning in 2018.
"I told the leadership I cannot support the bill with this provision in it," Upton said Tuesday. "It's not going to get my 'yes' vote the way it is."
Freedom Caucus
Recent changes made to the bill to win over conservative holdouts -- whose opposition tanked Republicans' last attempt to hold a vote on Obamacare repeal -- have alienated some GOP moderates.
Representative Mark Meadows of North Carolina, chairman of the House Freedom Caucus, a key conservative group, said Tuesday Republicans were "just a handful of votes away" and he didn't think there would be additional changes to the measure.
"There's always those prospects, but at this point you have to figure out whether you're going to gain or lose votes based on that," he said. "That will be a hard calculation right now."
— With assistance by Laura Litvan, Arit John, Greg Sullivan, and Kasia Klimasinska
Before it's here, it's on the Bloomberg Terminal.
LEARN MORE