Putin Pushes Syria Peacekeeper Plan With Trump to Save Truce
By and
Russia leader says 'impossible' to solve conflict without U.S.

Putin to meet Erdogan in Sochi a day after call with Trump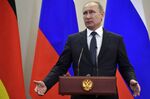 President Vladimir Putin is pushing a plan with U.S. President Donald Trump to create security zones and deploy peacekeepers in Syria -- possibly including Russian forces -- to enforce a faltering cease-fire as he tries to find a resolution to the more than six-year conflict.
The two leaders are scheduled to speak by phone later Tuesday, part of a diplomatic push by Putin on the Syria crisis this week. He's due to meet Turkish President Recep Tayyip Erdogan on Wednesday in the Black Sea resort of Sochi, a day after holding talks with German Chancellor Angela Merkel. The creation of the zones inside Syria is expected to come up during the call with Trump, Kremlin foreign policy adviser Yuri Ushakov told reporters.
"Without the participation of a country such as the U.S., it's impossible to resolve this problem effectively," Putin said after talks with Merkel in Sochi. "We will continue to be in contact with our American partners and we hope to reach an understanding on joint steps in this important and sensitive field."
Russia, which backs Syrian President Bashar al-Assad, has seized the initiative in Syria since joint peace efforts with the former administration of Barack Obama collapsed at the end of last year. But a truce brokered by Russia, Turkey and Iran at the end of 2016 hasn't taken hold. Trump's surprise decision last month to order missile strikes in retaliation for a chemical attack blamed on Assad forces upended Moscow's calculations that the U.S. would follow Moscow's lead.
Buffer Zones
While Assad managed to turn the tide of the war in his favor after Russia started an air campaign in Syria in September 2015, continued fighting between his forces and rebels backed by the U.S. and its allies stands in the way of a political settlement. The conflict has killed 400,000 people and sent millions more fleeing.
Putin's Syria envoy, Alexander Lavrentiev, presented the plan to set up four buffer zones manned by troops from Russia, Iran and Turkey and possibly other forces at a meeting with anti-Assad groups last week in Ankara, said Yahya al-Aridi, a senior opposition representative.
Russia has identified four areas where violations are occurring regularly -- the northwestern Idlib province, Homs province in the west, the East Ghouta suburb of the capital Damascus and southern Syria, said Elena Suponina, a Middle East expert at the Russian Institute of Strategic Studies, which advises the Kremlin.
"This is a turning point but it's a logical continuation of the cease-fire efforts," she said of the peacekeeper plan, adding that it might involve neutral forces such as the United Nations. 
"It should be done with the U.S., ideally it should be coordinated with the U.S.-led coalition" fighting Islamic State in Syria, Suponina said by phone.
Opposition Skeptical
Russian Foreign Ministry spokeswoman Maria Zakharova declined to comment on details of the plan, saying only that it will be discussed at a meeting in Kazakhstan this week between Russia, Iran, Turkey and the warring sides in Syria. Ushakov, the foreign-policy aide, said the issue of peacekeepers wasn't discussed in the talks with Merkel Tuesday.
The opposition is skeptical about the Russian initiative because the Kremlin is trying "to behave like a neutral party when they are the party involved in fighting the Syrians," al-Aridi said by phone from Istanbul. Its main demand is for a no-fly zone to stop bombing by Russian and Syrian jets, he said.
"What kind of peacekeepers are they? It is a different form of occupation," said Alexander Shumilin, head of Middle East Conflicts Center in Moscow.
The Kremlin initiative is fraught with risks because tensions could rise even among the three guarantors of the cease-fire, Shumilin said. In November 2015, Turkey, a supporter of the Syrian rebels, shot down a Russian warplane on the border with Syria, triggering a freeze in ties that lasted for months. Iran, Assad's main backer, is less ready for compromise than Russia.
— With assistance by Patrick Donahue
Before it's here, it's on the Bloomberg Terminal.
LEARN MORE