markets
Pimco CEO Roman Seeks to Add 100 Workers in Renewed Growth Push
By and
Bond giant competes with technology companies for top talent

Assets stabilized at $1.5 trillion as Bill Gross legacy fades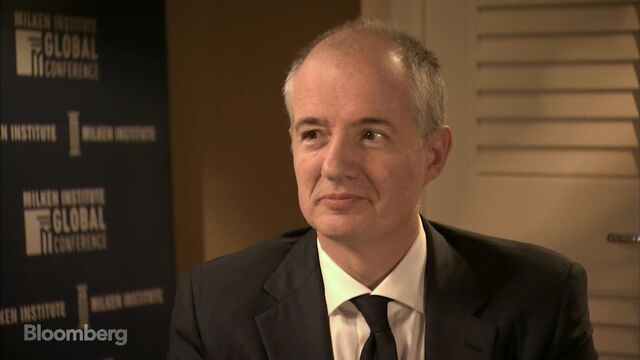 Emmanuel "Manny" Roman, the new chief executive officer at Pacific Investment Management Co., plans to add 100 employees over the next year in a renewed push for growth at the bond fund giant.
Instead of focusing on cutting costs and fees to compete, Pimco intends to spend on hiring and technology to become better, Roman, 53, said in an interview Monday during the Milken Institute Global Conference in Beverly Hills, California -- six months to the day after he took charge of the firm.
"As we become more of a technology company and more 'quanty,' we also face different competitors," Roman said. "The issue is not to compete for someone to come to us from Goldman Sachs. It's against SpaceX," he said, referring to Elon Musk's spacecraft firm.
Roman, whose firm had more than 2,150 employees as of March 31, has been recruiting people with skills in quantitative analysis and risk management, as well as history majors, because he wants diversity of thinking to come up with the best ideas for trades or products. He's also looking for those with the passion to go to work at 5:30 a.m., so they can be at Pimco's Newport Beach, California, headquarters before markets open in New York. Competition for new hires comes from Silicon Valley companies such as Facebook Inc. and Alphabet Inc., he said.
Pimco's assets have stabilized at about $1.5 trillion after hemorrhaging that followed the acrimonious September 2014 exit of longtime Chief Investment Officer Bill Gross. In March, the firm settled a lawsuit over the legendary fund manager's ouster, formally recognizing his role as a co-founder.
'Look Forward'
"It's important to look forward and not backward," Roman said. "We shook hands and we're glad this is behind us."
While active fixed-income funds industrywide reported net inflows in 2016 and this year's first quarter, they're still losing market share to index funds, which are getting even higher deposits. One reason for optimism about the future: Roman cited research by Pimco that found that active fixed-income beat their benchmarks at a higher rate than stock pickers.
At Pimco, about 83 percent of funds have better five-year records than their benchmarks, Roman said. The $79 billion Pimco Income Fund, headed by Gross's successor as CIO, Dan Ivascyn, has better three- and five-year returns than 99 percent of its Bloomberg peers. It raked in more new assets than any actively run mutual fund last year and in the first quarter of 2017. Outflows have slowed at the $74 billion Pimco Total Return Fund, once the world's largest mutual fund, as its three-year record beat 71 percent of its peers.
"Performance drives everything," Roman said. "We live and die by the numbers. We're never going to be the biggest, but hopefully we're going to be the best."
Roman, a native of France who collects wine and art, came to Pimco from London-based Man Group Plc, which he steered to become the world's largest publicly traded hedge-fund firm through a series of acquisitions. In today's market, asset managers are so costly that it's difficult to find significant acquisitions that can add to a firm such as Pimco, he said.
"We expect to grow organically," Roman said.
Consolidating Rivals
Still, he expects to see more consolidation among rival money managers, such as those with $100 billion in assets, as they fight to survive in an era of falling fees and rising costs for talent, technology and compliance.
"I think those will be somehow traumatic for the end investors," he said. "Because it's for the shareholders, not for the investors."
With a background in hedge fund management, Roman is looking for growth in Pimco's privately held alternative investments, which comprise about $27 billion in real estate, distressed assets and hedge funds. The company recently hired Greg Hall, a former Blackstone Group LP hedge fund product manager, to head up private strategies.
Roman is also looking overseas for expansion, especially in Asia and Latin America. China remains a challenge to enter, because of restrictions on foreign control of asset managers.
More than a quarter of Pimco's assets belong to parent Allianz SE, the Munich-based insurer that bought Pimco in 2000.
Uber Lifestyle
Roman worked at Goldman Sachs Group Inc. for 18 years before leaving in 2005 to head hedge fund firm GLG Partners. Man Group acquired GLG in 2010 for $1.6 billion, and Roman rose to CEO of the combined firm.
He is settling into Southern California -- despite never having learned how to drive a car. He lives near the ocean in Laguna Beach, 4.5 miles south of Pimco's headquarters.
"I haven't taken up surfing, I haven't taken up driving," Roman said. "My story of California is the miracle of technology. I can find four Ubers within four minutes at 5:30 in the morning to go to work."
Before it's here, it's on the Bloomberg Terminal.
LEARN MORE