Macron Tells Le Pen, Melenchon Voters He Hears Their Anger
By and
Le Pen ridiculed for plagiarizing part of Fillon speech

Finalists scheduled for one-on-one TV debate Wednesday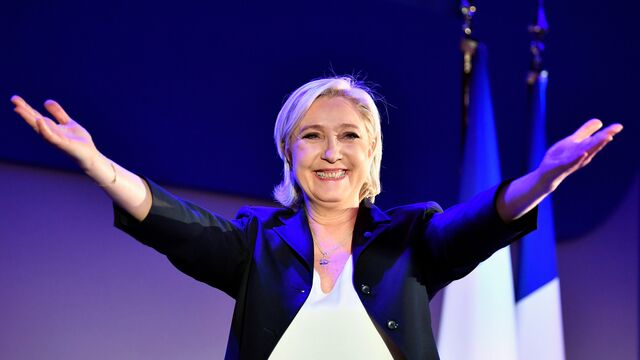 French presidential candidate Emmanuel Macron told backers of Marine Le Pen and Jean-Luc Melenchon that he understands their anger, seeking to extend his reach among voters with five days before the country's most tumultuous presidential election in recent history.
With the populist candidates from the far right and far left garnering more that 40 percent of the vote in the first round of the election on April 23, luring them is a key piece of any winning strategy for Macron. The front-runner pledged he will take into account factors that have driven voters to extreme parties if he's elected president next week.

"I hear this anger," Macron said on RMC radio Tuesday. "I'll never judge someone who votes for the National Front. You'll never hear me with this sort of moralizing discourse."
Macron and Le Pen, who will face each other in the runoff on May 7, are increasingly on the attack. Their respective pitches to voters are directly opposed, with the 48-year-old Le Pen arguing against immigration, for border controls and a return of powers from the European Union while Macron, 39, says that France can flourish within Europe and in a globalized world.
Polls show Macron leading with the support of roughly 60 percent of voters compared with about 40 percent for Le Pen. Yet with many backers of first-round candidates considering abstention, the outcome is far from certain and Macron says that he isn't taking anything for granted.
Dividing Society
Macron again charged Le Pen on Tuesday with surfing on citizen's anger and dividing society to the point of putting France on the road to civil war. He acknowledged some voters would support him on May 7 simply to keep Le Pen out of office and argued that he stood for protecting the right of democratic debate even with those who don't agree with him.
Still, the independent candidate said he won't drop his labor law reform plans, as suggested by far-left leader Melenchon, who conditioned his public endorsement for the candidate on such a move.
Neither candidate has provided their campaign agenda for Tuesday with their next major confrontation scheduled for Wednesday when the participate in a one-on-one televised debate.
Le Pen Plagiarism
Meanwhile, Le Pen drew ridicule in the press and on social media Tuesday for using chunks of a speech by defeated center-right nominee Francois Fillon, word-for-word, during a rally, in what her campaign said was an attempt to lure the former prime minister's voters.
The plagiarism appears to have first been noticed by Ridicule TV, a pro-Fillon channel broadcast through Facebook and Twitter.
At a rally Monday in Paris, Le Pen went off on an ode to France's geography, and how it links the country to cultures from around the world from "the immense Hispanic and Latin world" to "Italy our sister," and then boasted about how people from Mexico to Shanghai seek to learn French. But it was quickly pointed out that the passage was identical to a Fillon speech made on April 15 in central France.
Le Pen's campaign manager called it a "wink" to Fillon's supporters.
"There were some interesting elements," David Rachline said on France 2 television. "I think this little wink was appreciated, including by supporters of Mr. Fillon."
To hear about fake news in the French election, check out our podcast Decrypted:
— With assistance by Geraldine Amiel, and Helene Fouquet
Before it's here, it's on the Bloomberg Terminal.
LEARN MORE