markets
London Stock Exchange Attacks EU Grab for Clearing Post-Brexit
By
Exchange warns markets would be damaged if clearing moved

Euro clearing is key subject of tug of war between U.K., EU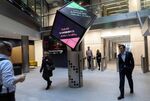 London Stock Exchange Group Plc warned against a move from the European Union to limit euro clearing in its home city, saying the attempt would put investors and financial firms at risk.
Euro clearing is a key subject in a tug-of-war as the U.K. seeks to extricate itself from the EU, following its vote to leave the bloc last year. LSE argued that tearing euro swap clearing from its region would cleave the marketplace, to the detriment of its participants.
"The net effect would be the creation of an international offshore euro swaps liquidity pool for non-EU entities, and a parallel, less liquid, smaller onshore euro swap market, which would damage only European issuers, savers, investors, pension funds and intermediaries," LSE said in an emailed statement Tuesday.
To read more about how Brexit puts financial clearing work up for grabs, click here.
Brussels has a proposal in place to take control of euro clearing, a draft of which will be made public Thursday, the Financial Times reported. London has been defending its financial services industry since the Brexit vote, especially its dominance of clearing. LCH, majority owned by LSE, handles the majority of clearing in a market where about $1.9 trillion changes hands daily.
EU officials have taken a harder line in negotiations over the future of its financial industry in recent days, adding new limits on banks and explicit demands on citizens' residency rights to their plan for the talks.
LSE is not alone in raising concerns about moving euro clearing out of London. Such a move would be "dangerous" and "alarming," and all markets would be worse off, Michael Spencer, chief executive officer of brokerage NEX Group Plc, said at a conference in London last week.
Before it's here, it's on the Bloomberg Terminal.
LEARN MORE