Libya's Factional Leaders Agree to Share Power, Al Arabiya Says
By
Council to include leaders of the two main groups in Libya

Deal includes holding elections after the council is formed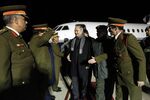 Leaders of the two main rival factions in Libya have reached an agreement to set up a power-sharing presidential council, a move that may bring stability to the North African oil producer riven into fiefdoms since the ouster of Muammar Qaddafi.
Prime Minister Fayez al-Sarraj and rival Eastern commander Khalifa Haftar agreed to form a council in which they will be members along with the speaker of parliament Aguila Saleh, Al Arabiya news channel reported. The deal, which followed peace talks in Abu Dhabi, requires that elections will be held six months after completion of the deal, which also includes an agreement on dissolving militias and fighting terrorist groups, the news channel reported.
The turmoil that has devastated the country since the 2011 uprising helped fuel Europe's refugee crisis, with fleeing asylum-seekers joining boats to cross the Mediterranean Sea.
Al-Sarraj's unity government, created after United Nations mediation more than a year ago, has lacked effective control over the country. The administration was largely undermined as Haftar, a renegade general who rose to prominence fighting extremist groups, rejected its legitimacy.
Before it's here, it's on the Bloomberg Terminal.
LEARN MORE