Italian Joblessness Unexpectedly Increases as More Seek Work
by
Economy likely expanded 0.2% in first quarter: Bank of Italy

Youth unemployment declines to 34.1%, lowest since early 2012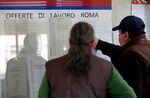 Italy's unemployment rate unexpectedly increased in March as the number of people looking for a job rose and the pace of economic growth could not satisfy their demand.
Joblessness climbed to 11.7 percent from 11.5 percent in February, statistics agency Istat said Tuesday in Rome. The median estimate in a Bloomberg survey of 12 analysts called for a reading of 11.5 percent.
Industrial production likely contracted 0.6 percent in the first quarter from the previous three months, Italy's main business lobby Confindustria said last week. Still, manufacturing confidence rose for the fifth straight month in April, Istat said in a separate report on Thursday. The euro region's third-biggest economy may have risen 0.2 percent in the three months through March, according to the country's central bank, which added that there are "downside risks" for its forecast.
There were 41,000 more jobseekers in March compared with the prior month, Istat said in its labor-data report. Joblessness for those aged 15 to 24 dropped to 34.1 percent from 34.5 percent in February. That was the lowest since February 2012.
There might be bad news in store for Italian employees as the country's main airline is going through a crisis that could end with a bankruptcy. Alitalia SpA's workers last month rejected a restructuring plan that included layoffs and salary cuts. That paved the way for the appointment of a special administrator and the firm's possible liquidation.
A discount on employer-paid social contributions introduced by former Prime Minister Matteo Renzi two years ago and offered to businesses hiring staff on an open-ended basis to benefit has ended.
Before it's here, it's on the Bloomberg Terminal.
LEARN MORE