French Banks Cross Their Fingers for Macron
By
Macron would be first ex-banker in 48 years at Elysee Palace

Questions remain over Macron's ability to push through reforms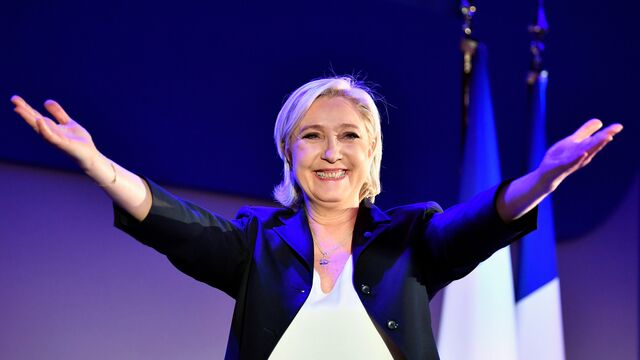 Emmanuel Macron, the frontrunner in the French presidential race, has been derided by his opponent as an ally of the banking industry. For investors, that sounds like an endorsement.
Should he win on Sunday, the 39-year-old former economy minister who previously worked at Rothschild & Cie. would be the first ex-banker to reach the Elysee Palace since Georges Pompidou in 1969. By contrast, current President Francois Hollande declared finance his "true adversary" when he ran in 2012.
Macron "understands that free markets and capitalism are the way that wealth is created for your country," said David Herro, chief investment officer of Harris Associates, a top-10 shareholder in BNP Paribas SA, the largest French bank. "That in itself is a plus for a French leader."
A surge in banking shares helped lift France's benchmark CAC 40 Index to a nine-year high after Macron won the first round of presidential voting on April 23, all but eliminating the risk of a French withdrawal from the euro. Polls show him leading by a wide margin in the May 7 runoff against anti-euro candidate Marine Le Pen of the National Front.
A Macron presidency could bring more lasting benefits to banks than a post-vote rally if he can harness support to lower taxes, free up investment and loosen labor rules. Juicing French economic growth would pave the way for wider lending margins for BNP Paribas and Societe Generale SA, which have struggled to boost consumer-banking revenue in France.

"As the economy improves, as the political situation dies down, you will start to see interest rates go up, which is good for these financials," said Herro. "I do not believe that interest rates are going to be negative or low forever."
BNP Paribas and Societe Generale are both likely to report lower first-quarter earnings when they publish results this week, based on the average estimates of analysts surveyed by Bloomberg. Revenue from retail banking in France probably fell about 2 percent in the quarter from the previous year, Citigroup Inc. analysts including Azzurra Guelfi said in a note.
Tougher Competition
The nation's top lenders are shrinking their French networks as competition from digital upstarts grows and clients embrace banking on their smartphones. Orange, France's largest phone company, will start a mobile bank in July and is targeting 2 million customers within 10 years.
France's three largest lenders trade below book value, even as they offer dividend yields above the average of Europe's Stoxx 600 Banks index.
On the bright side, BNP Paribas and Societe Generale are among a few European firms that gained market share in bond trading in 2016, and their corporate- and investment-banking businesses "should show solid results" in the first quarter, Citigroup analysts estimated.
The French economy showed signs of improvement even before the first round of the presidential vote. The composite Purchasing Managers' Index rose last month to a six-year high, putting the gauge above Germany's for the first time since 2012. Sentiment among French manufacturing executives rose to its highest since 2011 in April.
No 'Disintegration'
"The issue that most investors were worried about was the risk of euro disintegration," said Jonathan Fearon, investment director at Standard Life Plc in Edinburgh, which manages about 280 billion pounds ($372 billion), including BNP Paribas shares. "There's lot of money sitting on the sidelines now looking to chase an improving European economic backdrop."
Even so, Fearon said, "French banks have lots of work to do in terms of reorganization costs that will hold back reported profits, and the outlook is still for margins to be squeezed."
The runoff election sets up a choice between the pro-free trade, pro-European Union Macron and the nationalist Le Pen. Macron proposes reducing the corporate tax rate to 25 percent and easing the social charges companies face when hiring low-skilled employees. Le Pen, 48, has called for a surtax on companies that hire non-French workers, the imposition of import duties and a withdrawal from free-trade pacts, including the EU.
Reaching Out
Macron acknowledges his time as a banker but says it doesn't define him. "I'm reaching out to those who doubt, those who are angry and those who think that I'm far from them, because it's not true," he said Thursday in an interview on French television.
While polls suggest Macron will beat Le Pen by about 20 percentage points, his ability to implement a program will depend on his new movement securing a majority in June parliamentary elections or gaining backing from traditional parties.
"There is at least some hope that he will get the support," Michael Krautzberger, the head of European fixed-income at BlackRock Inc., said in a Bloomberg TV interview. "The established parties as a whole don't have an interest for a complete blockage here that would just pave the way for one of the extremist parties in the next election."
— With assistance by Blaise Robinson, Chris Malpass, and Guy Johnson
Before it's here, it's on the Bloomberg Terminal.
LEARN MORE