Giuliani, Mukasey Seen as 'Disingenuous' by Sanctions Case Judge
By
Pair downplay gravity of Iran allegations, U.S. Judge Says

Judge holds hearing on potential conflicts of interest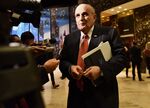 Former New York Mayor Rudy Giuliani and former Attorney General Michael Mukasey were described by a U.S. judge as "surprisingly disingenuous" for downplaying Iran's alleged role in the indictment of a Turkish businessman charged with sanctions violations.
The duo, hired by Reza Zarrab's team of lawyers to help defend him, was "possibly attempting to be dismissive of the transactions in the indictment as involving consumer goods," U.S. District Judge Richard Berman said during a hearing on Tuesday. They failed to mention Iran's central role in the indictment, the judge said.
The judge's comments added to questions about Giuliani and Mukasey's roles, after federal prosecutors said in court filings that the pair sought high-level meetings with U.S. officials in an attempt to end the prosecution of Zarrab outside of courtroom channels. Giuliani and Mukasey also went to Turkey in February and met President Recep Tayyip Erdogan to discuss the case.
Zarrab is charged with using his network of companies to launder hundreds of millions of dollars through the U.S. financial system on behalf of Iran to help it evade financial sanctions. In filings to the court last month, Giuliani and Mukasey said in similarly worded statements that "none of the transactions in which Mr. Zarrab is alleged to have participated involved weapons or nuclear technology, or any other contraband, but rather involved consumer goods." 
In fact, prosecutors have linked Zarrab's transactions to entities that have allegedly aided Iran's elite special forces unit called the Quds Force and Hezbollah. Starting in 2015, for example, prosecutors say Zarrab processed millions of dollars in transactions for a Dubai-based company called Ascot General Trading, which was allegedly a front for the Iranian airline Mahan Air. The U.S. has said Mahan has covertly flied personnel and weapons for the Quds Force and Hezbollah.
Berman made the remarks during a hearing to determine whether Giuliani and Mukasey's role in the case posed a conflict of interest that jeopardize the defendant's right to a fair trial. The remainder of the hearing was postponed until May 11 and there was no ruling on the issue.
Giuliani's and Mukasey's lawyers have said in court papers that their efforts on behalf of Zarrab have been "entirely lawful and not at all unprecedented." A spokeswoman for Giuliani's firm, Greenberg Traurig LLP, declined to comment. A spokesman for Mukasey's firm, Debevoise & Plimpton LLP, didn't immediately return calls seeking comment.
The case is U.S. v. Zarrab, 15-cr-867, U.S. District Court, Southern District of New York (Manhattan).
Before it's here, it's on the Bloomberg Terminal.
LEARN MORE