Ethics Rules Waivers for Trump's Team to Get Federal Scrutiny
By
Office of Government Ethics asks White House for documents

OGE director cites authority under Ethics in Government Act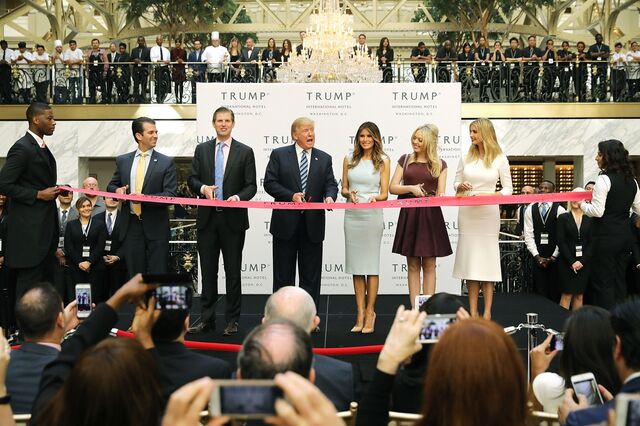 The top federal ethics agency is conducting a review that will examine every waiver of conflict of interest rules President Donald Trump's appointees have received.
The five-page memorandum from the U.S. Office of Government Ethics, posted online late Friday, seeks documentation of waivers granted to appointees ordinarily required to recuse themselves from matters in which they or family members have a financial interest.
Issued by the agency's director, Walter Shaub, it specifies that all agencies and appointees, "including White House officials," must comply with the notice, which covers appointees in the administrations of Trump and former President Barack Obama.
Trump issued an ethics order in January, days after being inaugurated, requiring his appointees to recuse themselves from matters involving former employers and clients for a period of two years. However, the White House and federal agencies can suspend that requirement for various reasons, including in cases where having an official's expertise in a matter outweighs the potential for a conflict of interest. Such waivers aren't required to be disclosed under federal law.
Seven Democratic senators, led by Sheldon Whitehouse of Rhode Island, wrote to Trump requesting that he make such waivers public following media accounts of former lobbyists and other officials in his administration receiving secret waivers.
Peacock Waiver
In the April 20 letter, the lawmakers wrote that Obama made such documents publicly available, adding, "You have not followed this precedent."
The senators cited a waiver granted to Marcus Peacock, who briefly served in Trump's Office of Management and Budget before leaving to join Business Roundtable, a conservative-leaning group of chief executive officers. The high-profile lobbying group said that the administration had granted Peacock a waiver of the five-year ban on former officials engaging in lobbying, trimming it to six months in his case.

Shaub, a long-term OGE attorney who was appointed to a five-year term as its director by Obama in 2013, has been critical of the way the Trump administration grants waivers. He told the New York Times this month, "There's no transparency, and I have no idea how many waivers have been issued." Shaub added that granting them was now a "political decision."
OGE and the White House didn't immediately respond to requests for comment.
"Given the administration's cavalier attitude towards ethics rules, it's not surprising that OGE is seeking an accounting of the waivers that have been given by the White House and the agencies," said Larry Noble, general counsel of the Campaign Legal Center, which advocates for stricter rules on money in politics. He said it was significant that the letter included the White House in its request. "It is within OGE's authority, and I assume the administration will fully comply."
Seeking Records
The Ethics in Government Act, the 1978 law that created the agency, gives OGE the power to conduct the review. Under the measure, agencies are required to provide the OGE with "all information, reports, and records" that its director determines are necessary to perform his duties. OGE set a June 1 deadline to receive the documents. The review will include waivers granted to officials during the last months of the Obama administration and the first months of Trump's.
The White House has previously indicated it didn't believe OGE's authority extended to its appointees. In a Feb. 28 letter to Shaub indicating that senior counselor Kellyanne Conway would not be disciplined for promoting Ivanka Trump's clothing line in an appearance on Fox News Channel in February, White House deputy counsel Stefan Passantino said that "many regulations promulgated by the Office of Government Ethics ("OGE") do not apply to employees of the Executive Office of the President."
In a response, Shaub wrote, "The assertion is incorrect, and the letter cites no legal basis for it."
The OGE director has clashed with Trump and his team over ethics issues before, notably the president's decision not to divest his assets.
Shaub took the unusual step in January of publicly criticizing Trump's decision. "Officials in any administration need their president to show ethics matters, not only through words but also through deeds," he said in an appearance at the Brookings Institution. "This is vitally important if we're going to have any kind of ethics program."
Before it's here, it's on the Bloomberg Terminal.
LEARN MORE