politics
Le Pen's Anti-Semitism Problem Is Back as Official Quits Over Nazi Comments
By , , and
National Front's acting head questioned elements of Holocaust

Macron visits site of World War II massacre in central France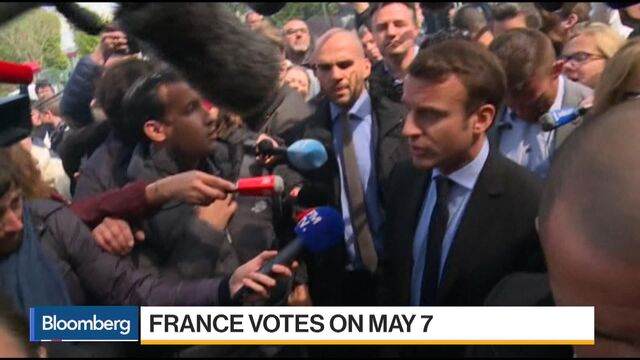 The National Front's history of anti-Semitism intruded on the French election campaign again on Friday as polls suggested front-runner Emmanuel Macron's 20-point lead may be narrowing a touch.
Marine Le Pen's far-right party forced acting president Jean-Francois Jalkh to step aside after comments from 17 years ago questioning the Holocaust resurfaced in the French media, Le Pen's political adviser and partner Louis Aliot told RMC radio. As Le Pen's team tried to play down the incident, Macron was visiting the site of a Nazi massacre, drawing attention to his rival's troubled background.

Jalkh had been nominated to lead the National Front earlier this week after Le Pen stepped down from her party role in an effort to increase her appeal to mainstream voters. Yet in the end the maneuver may have reminded voters of her party's history of racism, which kept it on the fringes of French politics under her father Jean-Marie.
Le Pen, 48, is trying to focus the election campaign on trade and immigration, arguing for new barriers to protect French workers. Macron, a 39-year-old former investment banker, is telling voters that they can prosper under the current regime.
French bonds jumped on Monday after Macron's first-round victory reduced the risk of a Le Pen presidency, with the spread over 10-year German bunds narrowing by 19 basis points. The gap narrowed by 2 points to 52 basis points at 4:26 p.m. Paris time Friday.
In a poll by Odoxa released Friday, Macron's lead narrowed by four points from the start of the week, with the centrist at 59 percent and Le Pen at 41 percent. Odoxa attributed Macron's slip to TV images of striking workers at a Whirlpool plant in Amiens arguing with him Wednesday, which contrasted with the welcome they gave to Le Pen earlier in the day. The Bloomberg Composite of second-round polls shows Macron leading by 21 points.

Le Pen is seeking to mobilize voters whose favored candidates were eliminated in the first round and appealed to those who chose Communist-backed Jean-Luc Melenchon in a video posted on her official Twitter account.
"I am reaching out to the France Unbowed voters today to call on them to block Emmanuel Macron," Le Pen said. "His platform is at the opposite of what their party proposed."
Le Pen was due to meet nationalist candidate Nicolas Dupont-Aignan, who scored 1.7 million votes, later on Friday, newspaper Le Parisien reported.
In Oradour-sur-Glane near Limoges in central France, Macron paid tribute to the 642 victims, including women and children, who were killed in June 1944 when an SS division destroyed the village. Macron was due to hold a public rally in the area on Friday evening.
Anti-Semitism
While Le Pen has sought to clean up the National Front's image since becoming leader in 2011 and even expelled her father for making anti-Semitic remarks, her party's history of pandering to extremists is among the reasons why polls see her defeat ahead.
Jalkh stepped down after remarks made in 2000 re-appeared in the French media earlier this week. He had cited technical reasons why it was "impossible" for Zyklon B gas to have been used in mass exterminations.
"This is the first time I've heard this rubbish, I have no memory of this," Jalkh told newspaper Le Monde on Thursday. He said he may have given the interview in 2000 and added: "I challenge anyone to say they heard me talk about these subjects."
For more on Le Pen's tussles with extremists, click here
Jalkh had also been quoted making a distinction between "crazy" and "hateful" Holocaust-deniers and those like Robert Faurisson whose arguments were "rigorous." Faurisson, a Franco-British academic, was convicted and fined for his views in 2006.
Hitler Comparisons
Jalkh was replaced by Steeve Briois, a vice-president of the party and the mayor of the northern town of Henin-Beaumont, where Le Pen held her election night party after the first round of voting last Sunday.
Earlier this month, Le Pen drew widespread criticism for arguing that France had no responsibility for an episode in 1942 when French police rounded up Jews in Paris who were sent to concentration camps. The candidate, who first made that comment on April 9, was reverting to the long-established party line that shuns any hint of repentance.
In March, Benoit Loeuillet, a Front official in the southern city of Nice, was suspended by the party after he was filmed in a C8 television documentary commenting that he "didn't really know what to think about the negationist thesis. It's complicated." He added: "I don't think there were as many dead. There weren't six million of them."
Bertrand Delanoe, the former Socialist mayor of Paris, drew a parallel with Adolf Hitler's conquest of power as he urged voters who did not pick Macron in the first round to stop Le Pen. "In the 1930s in Germany, the extreme left didn't want to choose between the social democrats and the Nazis," Delanoe told RTL radio. "Hitler was elected by universal suffrage."
(
Updates with Macron visit from second paragraph.
)
Before it's here, it's on the Bloomberg Terminal.
LEARN MORE