Canada's Economy Stalls as Factory Decline Offsets Housing
by
Real estate sector records best one-month gain since 2015

Recovery in goods producing sectors comes to halt in February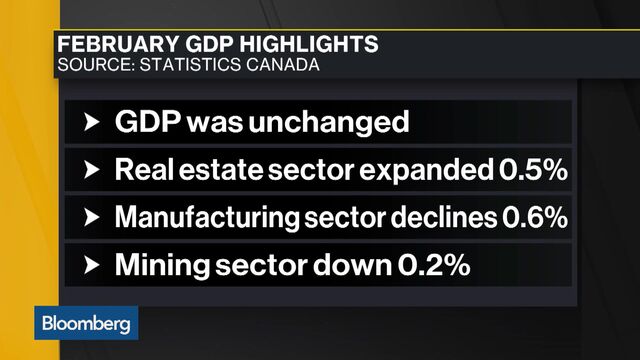 Canada's economy unexpectedly stalled in February as manufacturing and production in other goods producing sectors shrank during the month. The real estate sector, which expanded 0.5 percent, had its best one-month gain since 2015 as housing in Toronto soared.
Gross domestic product was unchanged in February, Statistics Canada said Friday from Ottawa. Economists surveyed by Bloomberg predicted a 0.1 percent gain in February, after a 0.6 percent jump in January.
Key Points
The recovery in goods production seen in recent months came to a halt in February, with those sectors recording a 0.3 percent decline in February after three straight months of gains. Manufacturers recorded a 0.6 percent decline in production, with the mining sector down 0.2 percent.
On the upside, it's all about real estate. The runaway housing market in Toronto was a major contributor to economic activity in February, fueling a 5.3 percent gain in output of real estate agents and brokers.
Other sectors benefiting from the hot housing market was the finance and insurance sector as a whole, which posted a 0.7 percent gain. Construction was up 0.5 percent during the month.
Gains in real estate and finance meanwhile are fueling demand for professional services like legal services. The professional, scientific and technical services component recorded a 0.5 percent increase, led by a 2.9 percent gain in legal services.
From a year earlier, GDP is up 2.5 percent in February, the biggest gain since January 2015.
Big Picture
Canada's housing sector, particularly in Toronto, has become both the main driver of growth and one of the biggest sources of uncertainty amid concern the gains aren't sustainable.
Even with the stalled growth in February, Canada is still on pace to have a strong first quarter, with annualized growth estimated to be just below 4 percent. That would likely be the fastest in the Group of Seven.
At the same time, caution prevails. At a rate decision two weeks ago in Ottawa, the Bank of Canada revised up growth projections for 2017, but cut them for 2018 and raised questions about the sustainability of the rebound and the country's long-term growth outlook.
Word on the Street
Nick Exarhos, CIBC: "February's 2.5% year-on-year growth suggests that meaningful progress has been made in closing the output gap. However, today's figures also point to a Q2 deceleration, with growth waning into the end of the first quarter"
Benjamin Reitzes, BMO: "After averaging 0.5% growth in the three months to January, the Canadian economy took a breather in February. While this might worry some, the prior pace was unsustainable and some payback is reasonable. Indeed, with GDP up 2.5% y/y, the best in two years, the economy remains headed in the right direction. Now, we just have to hope that Canada-U.S. trade issues and/or mortgage market stress doesn't derail the broader momentum."
Derek Holt, Scotiabank: "Q1 is shaping up to post reasonably genuine growth. There are nevertheless important cautions on the durability of the monthly growth. Quarterly growth will come in solid on the basis of the arithmetic given such a strong start in January, but if momentum is waning then it may not be a good hand-off to the next quarter."
Before it's here, it's on the Bloomberg Terminal.
LEARN MORE