Your Evening Briefing
Bloomberg News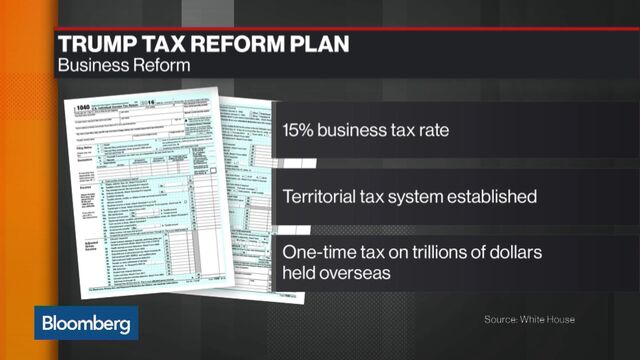 Want to receive this post in your inbox every afternoon? Sign up here.

The single piece of paper outlining President Trump's "phenomenal" tax plan didn't answer many questions about the proposal. But top business titans are getting a little excited about what a corporate tax break would mean for them. The longevity of such an overhaul is paramount for growth, and that may be the one thing the plan can't deliver. Bloomberg Businessweek's Lewis Braham writes that businesses won't be likely to equally benefit from a cut, with midsize companies and pass-through entities standing to gain the most. For now, everyone is left trying to read between the lines of a list of bullet points that amounted to fewer than 250 words. - Katie Robertson
CEOs are salivating over Trump's tax-cut plans, vague as they are. Nothing gets Corporate America going like a tax-cut proposal. CEOs are keeping their fingers crossed that the skeletal details offered up by the Trump administration on Wednesday will turn into a concrete proposal to slash the corporate tax rate to 15% from the current 35%. Many of the nation's business chieftains told Bloomberg the cut would free them up to invest and fuel economic expansion, but skeptics argue companies would only pass along tax savings to investors.

Michael Flynn was told in 2014 he'd need approval to take foreign income. A letter released by the top Democrat on the House Oversight Committee shows the Defense Department warned the former national security adviser against accepting payments after his retirement without approval. The Pentagon's internal watchdog has opened a probe into the payments.

Thousands of Obamacare customers are left without options after several insurers have decided not to offer marketplace coverage next year. Their exits mean customers in certain counties could be left with no plans to choose from. House Republicans are facing intense pressure from the White House to vote on the stalled Obamacare repeal bill this week, but party leaders still don't know whether they have the votes to pass it.

And then there was Hannity. For Fox News, the past year has been chaos, with the network blasted by a relentless squall of litigation, scathing headlines, and bitter departures. One by one, the biggest personalities have left the building – Roger Ailes, Megyn Kelly, Bill O'Reilly. But if anyone has come out a winner, it's Sean Hannity. The cable TV host has never been more important to the network.

Prisonville in Southern Texas could soon be back in business. An impoverished county, about 50 miles from the Mexico border, is counting on President Trump's immigration crackdown to revive what was its biggest employer: a detention center for deportees. The prison was mothballed after a 2015 riot, putting 400 employees out of work.

Female doctors earn less – and not because of the jobs they choose. A survey that controlled for doctors' ages, hours worked and region found a 27% wage gap nationally, across all specialties. Even women in some of the highest-paying medical specialties make much less than their male colleagues.
Flying taxis will be more like taking the bus. The dream of thwarting traffic in congested cities by flying over it is nearly here, but physics, safety, cost and utility still stand between you and that reality. Plenty of startups want to hasten the day when we all have flying cars, yet Uber and its partners see an air taxi as the logical first step.
Before it's here, it's on the Bloomberg Terminal.
LEARN MORE