Travel
What a BLT Can Tell You About a Hotel, Plus Other Travel Tips
Artist Damian Loeb on how he tests the room service of his hotels, and why he always packs a fan.
By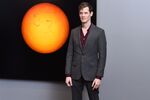 At Bloomberg Pursuits, we love to travel. And we always want to make sure we're doing it right. So we're talking to globe-trotters in all of our luxury fields—food, wine, fashion, cars, real estate—to learn about their high-end tips and off-the-wall experiences. These are the Distinguished Travel Hackers.
The New York artist Damian Loeb is known for his color-saturated paintings and photographs, counting Brooke Shields and Simon Hammerstein, owner of the Box, as friends and fans. But he is an avid traveler, as well: His most recent show at Acquavella Galleries was based on photos he took out airline windows. But Loeb is no airline loyalist or mile-hogger. "A lot of times I go with people and they pick the airline–I'm not a snob, I couldn't care less." Next week, he will introduce new work at Frieze New York. We caught up with him from his home in Tribeca, where he lives with his wife, Zoya, and their children. Here is his travel advice:

Always bring a fan 
I can't sleep without white noise and moving air on my face. I spent a lot of years living in office buildings illegally so I could have a studio, and I had to listen out for all kinds of things, so now I can't sleep without a fan. I always pack this small centrifugal blower fan I bought in the Tokyo Muji store, the megastore that is something like six stories. It is my savior, a little slice of home that transports me when I close my eyes. No matter the location or situation, I can pass out with the help of this magic blower. When I pack my luggage, the fan is usually put in the middle with clothing stuffed around it, so it doesn't get hurt. I would be devastated if it ever dies. 
Aim lower with travel photographs 
If I were to say just one tip that would get people's pictures to be more the way they remember them, more intimate—it's to get lower. Say you are in a restaurant in the Caribbean, and you ask yourself: How do I communicate this experience the way I'll remember it? Lower yourself down to about chest height when you take the picture and don't shoot straight. You feel more included in the crowd than when you stand up and take pictures, looking down on people; you're not among them. It's that God view, which means most of the pictures are documenting vs. illustrating, but when you lower yourself down you're illustrating. Cinematographers do that, too; they shoot lower, not over people's heads. 

Order the hotel's BLT
I judge room service by its BLT and its spaghetti Bolognese. When it comes down to it, the scientific method demands that you must have a variable and a constant, and a sandwich like the BLT is a constant. You can order it any time of day, because even the person on duty at night can make it without knowing how to cook. I was [pleasantly] surprised with the food at the Chateau Marmont. I am very much a New Yorker, but they had a good BLT, even though they added an avocado. The little variables say so much: Is the bacon fat crispy or chewy, or what's the quality of the mayo? The tomatoes are a really good sign if you're going to have a good experience at the hotel: A lot of the time, they have no flavor, but if they taste like fruit, it's a great sign. It's the tomatoes that sell it. And if they don't have a BLT on the menu? There's something wrong. It's the same with spaghetti—it's a universal dish that's easy to make.  
Pack like a musician ...
I tried joining a friend a few times on tour when I was young, and I saw parts of Europe I'd never seen before. I didn't understand what I signed up for—we were on a bus that had three bunks on top of each other, it was that cramped. At least I got the bottom bunk, I guess, because farts rise. But musicians don't fetishize much, they know the minimal amount of things you actually need to function. And they also always had a rider, a list they carried around with them to every single town of what they needed. That's the approach I take: I make a list of the things I need to take with me, and I have a list of things I can count on being there so I don't have to pack them. 
… or a model
When I met my wife, she was a Ralph Lauren model—she traveled a lot, and she had to fend for herself, and she had to look like she was sorted and sane early in the morning. [Agencies] don't want to pay for hotel rooms, so they get the girls to show up at 6 a.m. straight off the airplane—why pay for an extra night at a hotel? So she's an amazing traveler: She packs really light, she doesn't drink, and she carries so many different ointments and lotions. The limit on lotions didn't affect her tremendously, as she decants everything into one of these Muji containers, little identical tubs, and it's all very organic. 

Try the other side of the Adriatic
My [Serbian] wife introduced me to where they are from about 15 years ago—the coast of Montenegro and Croatia. Back then, it hadn't been discovered by Game of Thrones and James Bond [as a filming location]. It was like you had come across a part of Italy that was just on the opposite side of the water but where there were no tourists. There's these amazing Unesco sites, towns that have been there for hundreds of years where nothing has changed, and no modern building ruining the view.
Take a personal day to adjust
I'm a bit of a mollusk, as in, I live in a shell, and when I have to leave it to travel, I feel naked for a period of time without the protection of home. Until I've backed into another shell somewhere, even if it's temporary, I don't feel safe. So I take at least 24 hours to acclimatize to a place. I love sitting in a hotel room all day long ordering room service. My friends and my wife laugh at me, but when I travel, it's all work for me, I have to shoot all the time. It's because, if I get home and have a single memory that I don't have a picture from, I'm devastated. For me, vacation is to crash, order room service, and sit in the hotel doing nothing, so I can recuperate before I open the hotel door, step out, and experience everything. 
Before it's here, it's on the Bloomberg Terminal.
LEARN MORE