Turnbull Channels Trump With 'Australia First' Gas Export Curbs
By and
Restrictions on energy giants may boost poll ratings

Populist agenda threatens foreign investment: Wood Mackenzie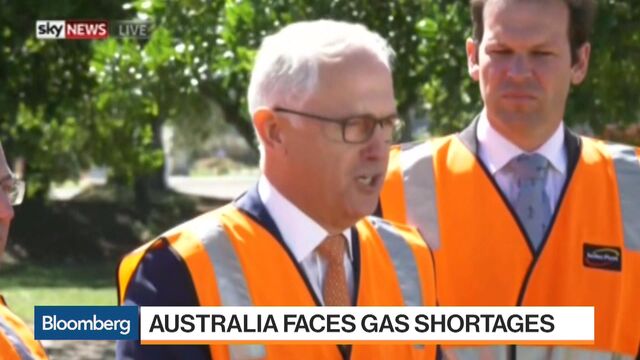 Australia's Prime Minister Malcolm Turnbull is taking a leaf out of U.S. President Donald Trump's "America First" playbook.
Just days after announcing a crackdown on foreign workers and tightening citizenship rules, Turnbull announced an effort Thursday to restrict gas exports by energy giants to protect domestic supply.
"Australian demand, Australian businesses, Australian jobs, Australian families have to come first," Turnbull told reporters as he detailed plans to possibly limit exports by firms including Royal Dutch Shell Plc, Santos Ltd. and Total SA. "It is fundamental action needed to protect the national interest."

Faced with growing support for fringe parties such as the anti-immigration One Nation, Turnbull has been seeking to shore-up support for his Liberal-National coalition government with his own populist agenda. The more nationalist approach may have the unintended consequence of deterring much-needed foreign investment.
Read More: Why Turnbull may curb gas exports from energy-rich Australia
"There is a heightened level of political risk now in Australia which means we are a less attractive place for investment," according to Saul Kavonic, lead Australia analyst at energy consultant Wood Mackenzie Ltd. Turnbull's move "is likely to have unintended consequences for energy security and for the economy as a whole."
As concern mounts that liquefied natural gas exports to nations such as Japan and South Korea have contributed to a tripling in Australia's wholesale gas spot price in the past two years, the government announced on Thursday that from July 1 a "targeted licensing system" will be activated for exports if there's a shortfall for Australian customers.
Turnbull said it was "utterly unacceptable" that exports had caused the domestic market to be drained of the gas it needs.
Export Restrictions
"It is ridiculous for us to be on the edge of becoming the largest LNG exporter in the world and not to have enough gas for our businesses, for our households, for industries," he said. The policy should halve the price of gas for industrial users on the east coast to about A$10 a gigajoule from current market rates of up to A$20 a gigajoule, according to Turnbull.
Industrial users of gas in Australia applauded the move. The federal government's intervention had become essential because of a failure in the country's energy markets, BlueScope Steel Ltd., Australia's top steelmaker, said in a statement. 
Gas producers said they would work with the government, but cautioned against export sanctions. APLNG, one of three Queensland LNG plants and owned by Origin Energy Ltd., ConocoPhillips and China Petroleum and Chemical Corp., said intervention would not lower prices or increase supply.
Since his center-right government was returned with a razor thin majority in an election nearly 10 months ago, Turnbull has failed to gain traction with voters.
Trump Fan
Parties such as Pauline Hanson's One Nation, which opposes the sale of key assets including farms and power companies to overseas investors, collectively hold the balance of power in the Senate and have blocked government legislation aiming to rein in a budget deficit. Hanson is a self-declared fan of Trump and backs many of his populist policies, including stepping away from the Australia-backed Trans-Pacific Partnership free-trade deal.
While Turnbull is a passionate advocate of free trade and says Australia is open to foreign investment, this month has seen a shift to populist rhetoric from his government. The government is set to deliver its annual budget on May 9.
"The new focus on social and economic nationalism is designed to win back working-class Australians outside the big cities who have been lured away by populists," said Paul Williams, a political analyst at Griffith University in Brisbane.
"Donald Trump has showed the global cycle is turning toward protectionism, so Turnbull knows there's political risks in championing free trade right now and there's no votes to be lost by being seen to back Australian businesses and jobs."
Australia, with a population of 24 million people and a land mass larger than India, relies on foreign investment to spur growth. Yet Turnbull must contend with the fringe parties that have capitalized on a wave of anti-immigration sentiment that has also spread through the U.S. and Europe.
'National Interest'
Primary support for One Nation has risen to 10 percent, according to a Newspoll published in the Australian newspaper on April 24, up from just 4 percent in November. Turnbull's coalition, on 36 percent, narrowly led the main opposition Labor party on 35 percent. On a measure that takes preference votes into account -- seen as a better indication of which party will triumph in elections due by 2019-- the coalition trails Labor, 48 percent to 52 percent.
Citing the "national interest" -- a term his government has used to block recent investment by Chinese companies -- Turnbull last week announced plans to tighten Australian citizenship rules.
Applicants will have to wait four years before applying for citizenship instead of one currently, prove a higher degree of proficiency in English and pass a citizenship test to show they have "Australian values" and can integrate into society. That move came days after the government announced a tightening of temporary skilled migration visas.
"Turnbull's gas policy is the latest example of his move towards protectionist nationalism and goes hand in glove with his crackdown on immigration," said Griffith University's Williams. "It's designed to arrest his government's poor poll ratings and it could work."
— With assistance by Dan Murtaugh
Before it's here, it's on the Bloomberg Terminal.
LEARN MORE