Trump's Wall May Not Stretch Entire Border, Secretary Kelly Says
By and
Wall can't be built in some areas because of rivers, canyons

Administration still committed to 'physical barrier'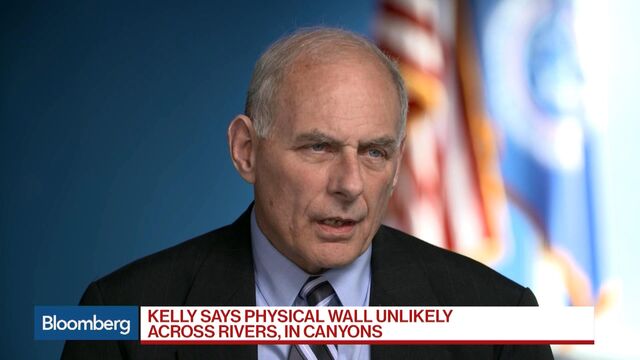 The Trump administration's signature plan to build a wall along the southern U.S. may not stretch across the entire border with Mexico, Homeland Security Secretary John Kelly said.
In an interview Thursday with Bloomberg Television, Kelly said there are spots along the border where a wall can't be built because of the terrain. Still, the administration is committed to building a "physical barrier" as much as possible, he said.
But "there's places probably where we won't build a wall because it's across river beds, we can't dam up the rivers," Kelly said. Other rough areas includes the canyons of Big Bend National Park. "There are other places where a see-through wall," or fence, would be sufficient, he said.

President Donald Trump campaigned on a vow to build a wall to stop "out of control" immigration and drug flow to the U.S. New funding for the barrier has likely been pushed off until later this year as Congress and the White House negotiate their spending bills for the current and 2018 fiscal year. That prompted Trump this week to say, "Don't let the fake media tell you that I have changed my position on the WALL. It will get built and help stop drugs, human trafficking etc."
Kelly said he foresees "an increase in physical barrier backed up by the men and women of CBP -- Customs and Border Protection -- and technology."
For a primer on how Mexico could respond to Trump's border plans, click here
At the same time, Trump has told him that securing the border doesn't mean creating "an impregnable wall that cannot be penetrated," and that the legal movement of people and goods across the border should continue.
Kelly said the department doesn't have specifics yet on the wall's design nor does it know how much it will cost. 
In developing national security policy, the president is "very involved" and "listens to his secretaries" and policy advisers, said Kelly, who called himself "an apolitical guy."
Before it's here, it's on the Bloomberg Terminal.
LEARN MORE