Smaller Companies Flood the Market With Share Sales Off Trump Bump
Good times for companies with a market value of less than $5 billion.
By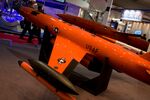 Nine days after Donald Trump was elected president, shares of Kratos Defense & Security Solutions Inc. had soared 22 percent. The gain was no mystery: Kratos is a defense contractor that among other things provides surveillance systems for the government. That's a useful business to be in while the president-elect is promising a big-league boost in military spending.
Management at Kratos acted while the stock was hot. On Nov. 18, for the first time in more than four years, the San Diego company issued new shares and sold them to investors, raising $80.5 million in cash, before fees. Sale proceeds funded investments in unmanned aerial vehicles. Kratos expects its drone business to double over the next two years.
The deal is just one of more than 400 sales of stock by publicly traded companies or their shareholders, called secondary offerings, in the U.S. since Election Day, up 79 percent from the year before. Most secondary offerings feature new shares issued by a company to raise cash for research and development, fund acquisitions, or repay debt. In the week following Trump's election, shares of SiteOne Landscape Supply Inc., the nation's largest wholesale distributor of landscape supplies, jumped 18 percent amid hopes for more homebuilding. Top shareholders, including Clayton Dubilier & Rice, a private equity firm, sold $297 million of stock in a secondary offering.

Small-cap stocks such as Kratos and SiteOne have outperformed the S&P 500 since the election and dominated the market for secondary offerings. More than $47 billion has been raised by all companies this year, $27.9 billion of that by those with a market value of less than $5 billion. The average size of all U.S. secondary offerings over that time has shrunk to the smallest in a decade.
"It's the smaller companies that are more likely to do M&A and related financings," says James Palmer, head of equity capital markets for the Americas at UBS Group AG. Given prospects for tax reform and deregulation, the companies are more optimistic about the future, he says. Boardrooms that had procrastinated on decisions about potential acquisitions took action as stocks rallied after the election. "I think of small-cap stocks as being the highest confidence indicators because they are high-risk, more volatile, and they typically have higher growth in better conditions," Palmer says.
While the sale of new shares provides companies with a cash windfall, it also dilutes the value of each share, because more shareholders are entitled to a piece of the earnings. The stock price initially might fall on news of an offering, but buyers aren't likely to complain if the newfound cash successfully helps shares rise longer term. "The valuations make it more palatable for issuers to raise equity," says Sumit Mukherjee, head of the Americas equity capital markets syndicate at Bank of America Merrill Lynch. Companies have promised to use the proceeds for specific purposes that investors are willing to finance, he says.
In late February the share price of Kratos jumped 5 percent after Trump called for a massive military buildup. Within days, Kratos did another secondary offering, raising an additional $86 million, which it earmarked primarily to reducing debt. "We're competing for several contracts this year," says Eric DeMarco, the company's chief executive officer. "I wanted to make damn sure that customers have no concerns about our ability to deliver."
Shares of financial institutions also have performed well since Trump's victory, with the Bloomberg Americas Banks Index rising 21 percent over that period. Small banks are among the companies that most often bring secondary offerings. Franklin Financial Network Inc., for example, rose 16 percent in the week after the election. The parent of Tennessee-chartered Franklin Synergy Bank promptly sold $72 million in stock, using the proceeds to help its balance sheet. Shares have since returned an additional 23 percent from the sale price. More than 30 similar stock sales by smaller banks have raised almost $6 billion since Election Day, or an average $162 million each.
For investors, not all the offerings are winners. Among the worst performers is biotech BioAmber Inc., whose share price has fallen 50 percent since the company raised $18 million in January, partly as a result of a second share sale in early April. The stock price of microcap Ohr Pharmaceutical Inc. has fallen 63 percent since a December share sale.
Still, says UBS's Palmer, the cash grab shows no signs of slowing. "The Trump story is a domestic one—it's a growth story, and it's good for smaller companies."
The bottom line: Companies with a market value of less than $5 billion have raised $27.9 billion this year from secondary offerings.
Before it's here, it's on the Bloomberg Terminal.
LEARN MORE