markets
Riksbank's Surprise Decision to Boost Stimulus Splits Board
By
Three members on six-person board opposed expanding QE

Swedish krona slides as bank delays potential tightening
Sweden's central bank in a split decision unexpectedly extended its bond buying program into the second half of the year and delayed any potential tightening as policy makers take no chances on inflation backsliding.
The Riksbank on Thursday prolonged its quantitative easing beyond June and will buy a total of 15 billion kronor ($1.7 billion) in nominal government debt and inflation-linked debt. The move was opposed by three members on its six-person board and was only anticipated by one of Sweden's top five banks. Policy makers also delayed any rate increases until the middle of 2018, while keeping their key rate at a record low of minus 0.50 percent. The bank's forecasts suggest rates will stay negative at least into 2019.
"To support the upturn in inflation, monetary policy needs to be somewhat more expansionary," the bank said. "The considerable uncertainty over economic and political developments abroad is also important for the stance of monetary policy."

The krona slid 0.8 percent to 9.626 per euro as of 10:54 a.m. in Stockholm. Swedish two-year yields fell 2 basis points to minus 0.63 percent while five-year yields dropped below zero again.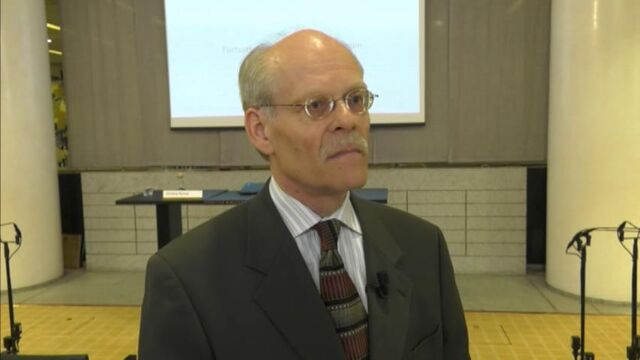 After being derided as "sadomonetarists" three years ago for keeping rates too high, the bank, led by Governor Stefan Ingves, is now showing considerable resolve in its all-out offensive to deliver on its main mission of price stability. Having come in below the central bank's 2 percent target for more than six years, inflation again disappointed in March, with the headline rate falling to an annual 1.3 percent.
"There's yet no evidence of rising core inflation and the low wage agreements will probably hold back domestic inflation," Andreas Wallstrom, an analyst at Nordea Bank AB, said in a note. "Without a substantial pick-up in prices globally, inflation will therefore most likely continue to be a challenge for the Riksbank."
The decision was also unexpected as the krona has been weaker than the bank anticipated amid a nascent global tightening drive. The European Central Bank is laying the groundwork for an end to its own bond buying program on signs of an economic recovery in the euro area, while the Federal Reserve is expected to continue raising rates this year.
The expansion of stimulus in Sweden is likely to be controversial as house prices have been rising at a fast clip and the economy is running on all cylinders. Reports just this week showed unemployment dipping to an eight-year low and manufacturing confidence reaching the highest in more than two decades.
Ingves had to use his tie-breaking power since three of the six board members, Martin Floden, Henry Ohlsson and Cecilia Skingsley entered reservations against extending the bond purchases. "They consider that monetary policy does not need to be made more expansionary in the current economic situation," the bank said.
Concerns have also been growing over the impact of liquidity on the bond market. The Riksbank has snapped up more than 40 percent of the market and will by the end of 2017 have purchased about 290 billion kronor in bonds.
While the additional stimulus was unexpected, the message from the bank wasn't completely tilted toward easing. The pace of bond purchases was scaled back from 30 billion kronor in the current six-month period and some of the easing bias was removed in the rate outlook. It now sees a rate trough of minus 0.53 percent through the first quarter of next year versus minus 0.56 percent in February.
(
Updates with analyst comment in sixth paragraph.
)
Before it's here, it's on the Bloomberg Terminal.
LEARN MORE