Hiring Lewandowski to Lobby Hasn't Saved Puerto Rico From Mean Trump Tweets
By and
Former Trump campaign manager has $125,000 island agreement

Lewandowski's firm hired to get more funding for Puerto Rico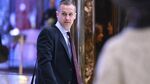 Puerto Rico hired President Donald Trump's former campaign manager, Corey Lewandowski, to work his influence in Washington. But by Thursday afternoon, all the distressed island got from the Commander in Chief was dismissive tweets.
As Congress raced to cobble together a budget deal to prevent a government shutdown, Trump lashed out at Democrats, claiming they are seeking to use the negotiations to "bail out" the crisis-wracked territory. That put him at odds with Lewandowski's lobbying firm, Avenue Strategies, which was hired to help Puerto Rico procure additional funds from Congress and promote the island's interests in the nation's capital, according to a review of the agreement provided by the island's Office of the Comptroller.
"The Democrats want to shut government if we don't bail out Puerto Rico and give billions to their insurance companies for OCare failure. NO!," Trump tweeted at 4:30 a.m. Thursday.
"Democrats are trying to bail out insurance companies from disastrous #ObamaCare, and Puerto Rico with your tax dollars. Sad!," Trump tweeted at 4:06 p.m. Wednesday.
Democrats are seeking to include additional Medicaid funds for Puerto Rico in the federal budget. The commonwealth is set to deplete its supplemental Medicaid funding by Dec. 31 and is at risk of dropping hundreds of thousands from the program.
Puerto Rico Governor Ricardo Rossello said Trump's remarks on social media run counter to the sentiments in Congress. The president's tweets, he said in a statement, "don't reflect the feelings of the majority on the issue and the analysis that's being produced in Congress on the matter."
U.S. Representative Tom Cole, a Republican who sits on the appropriations committee, and Jim Costa, a Democrat on the panel that oversees Puerto Rico issues, said there are bipartisan discussions underway to prevent the collapse of the health-care system. "There are some big numbers" being discussed, Costa said. Trump's Secretary for Health and Human Services, Tom Price, has estimated it would cost about $900 million to fully fund the island's Medicaid program through mid-2018.
Puerto Rico will have a difficult time getting support for financial assistance from the White House, even with Lewandowski's professional help, said Amilcar Antonio Barreto, a political scientist at Northeastern University in Boston who studies Puerto Rico.
"What he's signaling is that if you think I'm going to throw you a status or a financial life preserver, you're wrong," Barreto said. "I don't think they're getting much of anything despite the glimmer of hope that they can get the Trump administration to advocate for Puerto Rican statehood, which I sincerely doubt will ever happen."
Puerto Rico hired Avenue Strategies to "discuss, identify, originate, promote and secure federal funds, incentives and other programs that benefit, enable and achieve the government's public policy," according to a copy of the agreement.
Lewandowski founded Avenue Strategies with Barry Bennett, a former campaign manager for Ben Carson who later worked for Trump. The lobbying firm is located two blocks away from the White House. Lewandowski claims he can see the president's bedroom from his office.
Avenue Strategies' work for their clients is confidential, Bennett said in an e-mail, referring questions to Rossello's administration. Yennifer Alvarez, Rossello's spokeswoman, declined to comment.
The president's tweets weren't the first rebuke from the Trump administration. In April, the Department of Justice sent a letter to Rossello, saying that the current ballot for the referendum on the island's statehood status was insufficient because it didn't include the status quo as an option. Rossello is a strong advocate for statehood, though the referendum set for later this year also includes independence as a possible choice.
Puerto Rico's four-month pact with Avenue Strategies is set to expire June 30. The island may pay the firm up to $125,000 per year and as much as $25,000 each month, according to the agreement.
— With assistance by Jonathan Levin, Billy House, and James Rowley
Before it's here, it's on the Bloomberg Terminal.
LEARN MORE