Nigeria's President Buhari Is Recovering, Must Take It 'Slowly'
By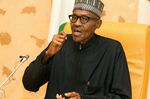 Nigerian President Muhammadu Buhari is recovering from an undisclosed ailment and there is no cause for concern about his health, the presidency said.
"As eager as he is to be up and about, the president's doctors have advised on his taking things slowly, as he fully recovers from the long period of treatment in the United Kingdom some weeks ago," presidency spokesman Garba Shehu said Thursday in an emailed statement.
Buhari on Wednesday missed a weekly cabinet meeting for the second time this month. The 74-year-old leader stayed in the U.K. for more than seven weeks earlier this year as he received treatment for an undisclosed ailment, sparking concern about government paralysis and triggering speculation about the severity of his condition. He returned to Nigeria on March 10, but is expected to fly back to London for further care, the presidency said earlier in April, without specifying when he would travel.
"There is no need for apprehension over the health of our president," who works mostly from his home where he has has a fully equipped office, Shehu said.
Buhari's government is currently working on approving a 7.3 trillion-naira ($23.6 billion) spending plan to help revive an economy that shrank last year for the first time since 1991, amid plummeting oil revenue and shortages of foreign currency. Nigeria's is Africa's biggest oil producer.
Before it's here, it's on the Bloomberg Terminal.
LEARN MORE