'Have a Nice Boat Ride': French Election's Final Round Turns Nasty
By
The finalists go on the attack with 10 days to decisive vote

Candidate stands on globalized world at the heart of battle
Emmanuel Macron and Marine Le Pen stepped up their one-on-one battle for the French presidency as the final stretch of campaigning turned increasingly combative.
"War Declared" was Liberation newspaper's front-page headline Thursday.
After an attempted ambush of a Macron event at a closing appliance factory Wednesday, Le Pen, 48, appeared on a Mediterranean fishing boat Thursday, taking her campaign from the economically ravaged north to the far-right National Front's traditional heartland. Macron, 39, immediately responded to her latest photo opportunity by blasting her plan to pull France out of the European Union.
"Have a nice boat ride," he said on Twitter. "The withdrawal from Europe that she wants would be the end of the French fishing industry. Think about it."
With 10 days to go before the decisive vote, their radically different views on France's place in the European Union and in a globalized world is putting the two finalists at loggerheads. While Le Pen wants to put up border controls and tax imports, saying an open world no longer works for most French people, Macron says he's defending the bulwarks of France's prosperity over half a century and that his rival's plans would lead to economic disaster.
Political Whirlpool
Through their surrogates on morning radio and television, the candidates extended Wednesday's debate about whether a Whirlpool factory in Amiens should be saved through nationalization.
"We wouldn't hesitate to do it," Le Pen deputy Florian Philippot said on France Inter radio. Macron "offered no solution, no prospects. It's not acceptable to see companies move production abroad."
Le Pen appeared at the factory for 18 minutes Wednesday in an attempt to sabotage a meeting that Macron was holding in parallel with union leaders. Macron then came to the plant and spent 1 hour and 20 minutes in heated discussion with factory workers, absorbing their anger and telling them that Le Pen's promises amounted to lies and demagoguery.
"We got to see what Marine Le Pen really is: she came for 10 minutes to do selfies and smiles," said Francois Bayrou, a presidential candidate in the past two elections who is backing Macron. "The contrast between those who are willing to have real contact, who aren't afraid, who don't retreat and tell the truth is revealing about the choice facing the French."

For the independent centrist Macron, the stakes are high. The political novice and former banker is tipped by polls to win the May 7 runoff handily, -- by about 20 percentage points. But with voters on both the left and right threatening to abstain, the race might tighten.
In a speech in the northern town of Arras on Wednesday evening, Macron warned such voters about their complacency in the face of the dangers the National Front.
"For all those who have decided to sleepwalk through the 21st century, shame on you," he said.
Le Pen holds a rally in Nice on Thursday evening, while Macron will be interviewed on the evening news.
There may be more confrontational scenes in the coming days, as Le Pen seeks to overturn her poll deficit.
Watch Next: Macron Expected to Win Second Round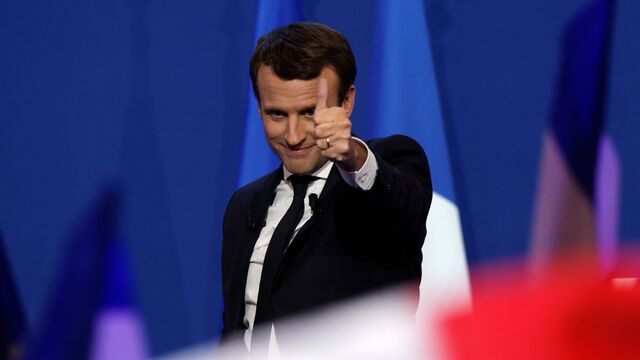 Before it's here, it's on the Bloomberg Terminal.
LEARN MORE