The Man Krugman Called a 'Sadomonetarist' Proves He's Really Not
By and
Riksbank governor used tie-breaking vote to expand QE

Central bank delayed potential rate increases to mid-2018
Swedish central bank Governor Stefan Ingves has gone from being derided as a "sadomonetarist" by Paul Krugman for keeping interest rates too high to now overruling half his board in his quest for ever more stimulus.
The 63-year-old is rewriting his legacy in what could be his last year at the helm of the world's oldest central bank as his second six-year term expires in December.
Since pivoting in mid-2014, Ingves has led an often contentious effort by unleashing an unprecedented amount of stimulus to propel Sweden out of a disinflation spiral. On Thursday, he showed further resolve, using his tie-breaking vote to drive through a surprise extension of the bank's two-year quantitative easing program.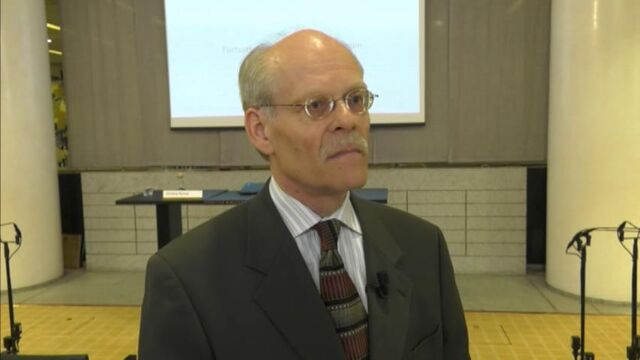 Investors and analysts are taking note of the governor's transformation, and what it means for his potential successor, not to mention the difficulties that person will face in normalizing monetary policy in the years ahead.
"Ingves has clearly redefined himself during the course of the journey and he doesn't want to take any more criticism for not reaching the 2 percent inflation target," said Thomas Elofsson, who helps manage $2 billion in bonds at Catella in Stockholm. "It will be very important who takes over after Ingves. It will probably be somebody who is less burdened by past decisions and therefore somebody who's less dovish."
Whoever takes over will need to deal with negative rates for years to come. While Ingves and three of his colleagues on the six-member board disagreed on extending QE, they were all on the same page when it came to holding the key rate at a record low of minus 0.5 percent and pushing any rate increases even further into 2018. The bank's forecasts suggest rates will stay negative at least into 2019.
Having come in below the central bank's 2 percent target for more than six years, inflation again disappointed in March, with the headline rate falling to an annual 1.3 percent.
Housing Fight
But Ingves is playing a dangerous game, according to some. He risks distorting the bond market by soaking up more than 30 percent of the market. The expansion of stimulus is also controversial as house prices have been rising at a fast clip and the economy is steaming ahead. Reports just this week showed unemployment dipping to an eight-year low and manufacturing confidence reaching the highest level in more than two decades.
Ingves, who lost out to the financial regulator in a fight over who's in charge of macroprudential policy, has since warned that it's now up to the government and other authorities to contain potential housing market imbalances.
While the Riksbank's move will have a limited effect on the markets, it does put more pressure on the financial regulator to curtail the excesses in the housing market, said Andreas Halldahl, head of rates at Storebrand Asset Management in Stockholm.
"One could speculate that because he's stepping down soon this is his way of forcing through more measures to limit mortgage access," said Halldahl, who oversees $13.5 billion in assets. "Once the politicians and the FSA have delivered more measures and there's a new sheriff at the central bank, then the Riksbank can start anew, get over the disappointment on macroprudential oversight and return to a more pragmatic monetary policy."
Tie-Breaking Vote
Ingves had to use his tie-breaking power since three of the six board members, Martin Floden, Henry Ohlsson and Cecilia Skingsley, entered reservations against extending the bond purchases. "They consider that monetary policy does not need to be made more expansionary in the current economic situation," the bank said.
Elofsson at Catella said Ingves's successor will have a narrow window to normalize policy.
"It will be a race against time as there is a high probability that the Federal Reserve at that point will have tightened some more, which creates headwinds for global economic growth," he said. "So it may take 8 to 10 years until the repo rate becomes clearly positive."
But Ingves played up other risks, saying inflation prospects have worsened and remain fragile. He also underscored that political risk threatens the global expansion that Sweden is counting on.
Ingves also wouldn't rule out that even more stimulus will come, in particular since any signs of tightening could lead to a stronger krona and jeopardize the inflation target. The European Central Bank on Thursday kept rates unchanged at record lows and maintained its quantitative-easing program as officials monitor the economic recovery and the risk of political turbulence.
"It's just to early to tell" if more easing will be needed, he said in an interview after a press conference in Stockholm.
Before it's here, it's on the Bloomberg Terminal.
LEARN MORE