politics
Korea Inc. Ready to Kill Major Reforms No Matter Who Wins the Election
By
Parliament likely to approve only lighter reform proposals

'You bother chaebol, and the entire establishment reacts'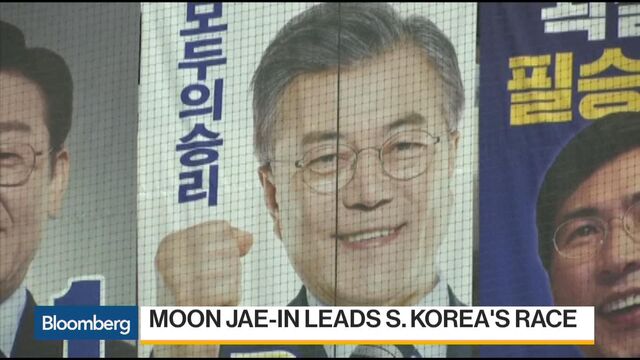 Much of the mess South Korea finds itself in can be traced to billionaire Jay Y. Lee's attempt to tighten control over Samsung Group, the business his father and grandfather built into the country's biggest company.
In 2015, Lee's family thwarted a move by hedge fund Elliott Associates LP to block an $8 billion merger of two affiliates that would give him greater control over Samsung. They received support from allied shareholders and the government-run National Pension Service, a vote that contributed to the arrests of Lee and former President Park Geun-hye earlier this year.
The scandal exposing Park's close ties with big business sparked South Korea's biggest protests since the 1980s -- and eventually led to her ouster in March. Most candidates to replace her in a May 9 election have called for overhauling the family-run conglomerates known as chaebol that helped transform the nation into Asia's fourth-biggest economy following the Korean War.
Yet in parliament, the boldest reform proposals -- including one that would've hindered the Lees' attempt to consolidate control of Samsung -- are already all but dead. Lawmakers across the political spectrum say only lighter measures are likely to pass.
All of this means South Korea risks slipping into the same cycle that has plagued it since embracing democracy in the 1980s, in which campaign promises to reform the chaebol are watered down once the election is over. For investors, failure to overhaul the sprawling conglomerates -- the top 10 own more than a quarter of all business assets -- would erode optimism of bigger dividend payouts and more efficient corporate structures.

Inaction also threatens to hold back South Korea's economy, which is expected to expand this year at the slowest pace since 2012. High-profile corruption scandals, bankruptcies and product recalls have damaged the reputation of the country's biggest companies at a time when society is aging, household debt is rising and income inequality is growing.
"We can't grow anymore with the old system," said You Jong-il, a campaign adviser to the late President Roh Moo-hyun who teaches macroeconomics and development policy at the government-run KDI School of Public Policy and Management. "To revive the spirit of innovation in the economy, the establishment represented by chaebol should be reshaped."
Reform Proposals
Dozens of proposals to overhaul the chaebol are sitting in parliament, many of which mirror similar bills that have been proposed and discarded over the past few years. They broadly fall into four categories:
Electronic voting: It would be mandatory for companies to allow minority shareholders to vote remotely instead of forcing them to show up in person at shareholder meetings that various chaebol often schedule at the same time.
Legal liability: Shareholders of a parent company would be allowed to hold executives at affiliates liable for losses.
Corporate governance: In a bid to strengthen the independence of directors and auditors, large shareholders would be prevented from installing a friendly auditor, and it would be mandatory for companies to have a director that represents employees.
Treasury shares: Companies would be restricted from using treasury shares in mergers for the purpose of consolidating the power of the majority shareholder.
'Zoo of Samsung'
Judging by the talk on the campaign trail, it would appear that big changes are coming.
Frontrunner Moon Jae-in of the Democratic Party of Korea wants the "chaebol-focused growth strategy" abolished, blaming it for high unemployment and low wage growth. Challenger Ahn Cheol-soo of the People's Party, a former software tycoon, says companies won't survive if they're "locked up in the Zoo of Samsung."
Both are well ahead of Hong Joon-pyo of the Liberty Korea Party, the latest incarnation of the conservative wing that backed former leader Park. Hong has said the government should encourage the chaebol to create jobs "instead of treating them like criminals."
Yet while Hong has little shot at winning the presidency, his party is still the second-biggest in parliament with almost a third of all seats. That's enough to block any serious reform efforts in committee votes until 2020, the year of the next parliamentary vote.
Korea Discount
Softer measures like electronic voting and legal liability would be "relatively easy" to pass after the election, according to Kim Sang-jo, a chaebol reform adviser to Moon. Others, including proposals regarding treasury shares and corporate governance, are more difficult, he said.
Passing only two measures "will at least give an important signal to businesses and society," Kim said.
Many of Korea's wealthiest families use a complicated web of cross-shareholdings to maintain control of conglomerates, even without majority stakes in each affiliate. Concerns of cronyism have sapped shareholder value, prompting shares of chaebol-linked companies to trade at lower multiples of earnings than their peers in the U.S., Europe or Japan -- a phenomenon called the "Korea discount."

Some chaebol, including LG Corporation and SK Holdings, have split into holding and operating companies to clarify shareholdings and decrease the chance that funds leak to related firms. Lotte Group said this week that it planned to follow suit.
Samsung Group and Hyundai Motor Group are the largest companies that haven't restructured into holding companies. For them, treasury shares are a key tool to maintain control. The company-held stock only gains voting rights when sold, so families routinely hand them off to allies who would support them on contentious decisions.
'Wholly Improper'
In the Samsung merger, Samsung C&T Corp. sold all of its common treasury shares to KCC Corp., saying the move was necessary to secure a key ally to vote for the merger with the group's de facto holding company, Cheil Industries Inc.
Billionaire activist Paul Elliott Singer, who founded Elliott Associates, called the sale "wholly improper" in a lawsuit to block the deal. Singer ended up losing the case. He had no comment when reached on Monday.
South Korea's National Pension Service, which manages about $450 billion, also supported the merger to help it narrowly pass. The fund's chairman, Moon Hyung-pyo, was arrested in December on charges that he pressured it to back the merger when he led the health ministry, as part of a deal between Lee and Park to assist with succession at Samsung.
Lee and Park have denied wrongdoing. Moon told his staff that he hoped the merger would succeed, but denied abusing his power to make it happen, according to the Hankook Ilbo newspaper, which cited his statements at trial.
"The magic of treasury shares" is used by chaebol families to consolidate their power, Park Sang-in, a professor at Seoul National University, wrote in his book "Chaebol Reform: Why Now?" An effort by the justice ministry in 2006 to regulate treasury shares was dropped after opposition from business groups, he wrote.
Arm Twisting
"Among all, limiting usage of treasury shares is critical to reform chaebol," Park said.
The Korea Chamber of Commerce and Industry has been a leading voice opposing chaebol reform. The group, which says it represents 170,000 companies of all sizes, urged presidential candidates this month to improve the system through enforcement of existing laws rather than adding new restrictions.
"We shouldn't twist the arm of the conglomerates," said Lee Kyung-sang, executive director of the group's economic research division. He argued that proposals in parliament would weaken chief executive officers in favor of hedge funds.
In a statement to Bloomberg News on Wednesday, Samsung said it was reviewing the impact of various chaebol reform proposals, but didn't want to speculate future policy moves. Samsung Electronics Co., which reported the highest quarterly profit in almost four years on Thursday, said it wouldn't convert into a holding company.
'20 Percent Success'
While the company didn't adopt the corporate restructuring plan pushed by Singer, it did offer to pay its first-ever quarterly dividend -- prompting the stock to jump 4 percent. It also plans to cancel tens of billions of dollars in treasury shares, a move welcomed by Singer's hedge fund.
Still, some lawmakers don't trust South Korea's biggest companies to fix the system themselves. Chae Yi-bai, a lawmaker with the opposition People's Party who was a corporate governance activist for more than a decade before joining politics, said it would be a "20 percent success" to only pass measures on electronic voting and legal liability.
"Chaebol are strongly resisting the reform bills and influencing political parties that are part of the establishment," he said. "You bother chaebol, and the entire establishment reacts."
— With assistance by Sam Kim, and Sohee Kim
Before it's here, it's on the Bloomberg Terminal.
LEARN MORE