Flynn Was Told in 2014 He'd Need Approval to Take Foreign Income
By and
Cummings releases a letter on ethics from DIA to Flynn

Pentagon watchdog is investigating payments he received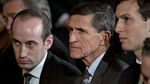 The Defense Department told former National Security Adviser Michael Flynn in 2014 that he was prohibited from accepting payments from foreign governments after his retirement without approval, according to a letter released by the top Democrat on the House Oversight Committee.
The Democrat, Representative Elijah Cummings, has been probing Flynn's 2015 paid speech to Russian-backed TV network RT. Cummings also released Thursday an April 7 letter from the Defense Intelligence Agency saying it hadn't located any records of Flynn "seeking permission or approval" to receive money from a foreign source.
"These documents raise grave questions about why General Flynn concealed the payments he received from foreign sources after he was warned explicitly by the Pentagon," Cummings of Maryland said in a statement.
The Defense Department inspector general's office also said Thursday that it's investigating whether Flynn "accepted payments in violation of the Emoluments Clause, implementing laws, or Department of Defense regulations."
Flynn, a retired U.S. Army lieutenant general and former director of the DIA, was a top adviser to Donald Trump's presidential campaign. He resigned from his position as President Trump's national security adviser just weeks into the administration amid claims he misled Vice President Mike Pence about the content of his calls with the Russian ambassador during the transition.
At Putin's Table
In December 2015, Flynn gave a $45,000 speech at a gala for the RT network, during which he sat at the table of Russian President Vladimir Putin. He also gave paid speeches to at least two other companies with ties to Russia.
In a statement, Flynn's lawyer, Robert Kelner, said that Flynn "provided information and documents on a thumb drive to the Department of Defense concerning the RT speaking event in Moscow, including documents reflecting that he was using a speakers bureau for the event." He said a partially redacted reference to a thumb drive in the DIA's April 7 letter "confirms" that Flynn handed over the documents.
In addition, Kelner said Flynn briefed the department before and after the trip.
"There is no evidence that there was permission either given or requested," Cummings told reporters Thursday. "There is not one shred of evidence."
Oversight Committee Chairman Jason Chaffetz told reporters Tuesday that the failure to disclose the speech may have violated the law. Chaffetz, a Republican from Utah, and Cummings said documents revealed Flynn had also failed to disclose the speech on a January 2016 application for renewal of his security clearance.
In the October 2014 letter, the DIA said that it was responding to a request from Flynn for a written opinion regarding ethics restrictions that would apply to him after retirement.
'Covering Up'
In a letter Thursday, the 18 Democrats on the oversight committee urged Chaffetz to push back against the White House's assertion that it couldn't provide documents the committee requested about Flynn because they weren't in its possession or were classified.
"Our committee deals with classified, sensitive, and confidential information on a regular and routine basis, and this excuse is not valid ground to withhold all documents from the Committee," the lawmakers said in the letter. The Democrats also said they were confident that Trump and Pence could "help make arrangements" for the committee to gain access to documents from the presidential transition.
Cummings told reporters earlier Thursday that "the White House is covering up for Michael Flynn." He said that Chaffetz, who announced Wednesday night that he would take three to four weeks of medical leave from Congress, had rebuffed his requests to call Flynn to testify.
White House Press Secretary Sean Spicer told reporters that Cummings' accusation was "frankly untrue." He called the inspector general's probe "appropriate" and defended the White House's decision to accept Flynn's security clearance, saying it had been renewed under the administration of former President Barack Obama "apparently with knowledge of the trip that he took."
In a separate letter Thursday to Acting Secretary of the Army Robert Speer, Chaffetz said that Flynn "by all appearances" had violated the law. He asked Speer to make a final determination on Flynn's conduct and, if necessary, start a process by which Flynn would repay the money in question.
— With assistance by Bill Allison
Before it's here, it's on the Bloomberg Terminal.
LEARN MORE