European Bank Bulls Seek ECB Tapering Hints as France Risk Fades
By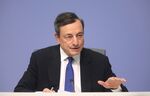 Investors are waiting to see whether Mario Draghi joins in the optimism that has engulfed the region's stock market since the French vote. If he does, one clear winner will be banks.
Concurring may clear the path for the European Central Bank president to take a speedier route to tighten monetary policy, analysts say. Lenders top the list of beneficiaries of any signals that the institution is closer to winding down its stimulus program.
While economists forecast no changes to interest rates or asset purchases in the ECB decision Thursday, the event might see the official start of an exit discussion that has thus far been only hinted at in public appearances and media interviews by policy makers.
The optimism is reflected in the outperformance of euro-area bank shares compared with the broader Euro Stoxx Index in recent sessions. That relative move is at a record-high correlation with 10-year bund yields.
"Now that some of the French election clouds over Europe have cleared, what we might well get earlier than had been expected is some sort of signal that the ECB is thinking about tapering -- it'll be all about language tweaks and tone," Ken Odeluga, a market analyst at brokerage firm City Index in London, said in a phone interview. "So it makes sense for investors to go all in when it comes to banks, forecasting much stronger profit growth for them in the next years."
Steeper borrowing costs will boost the profitability of the sector, which has already rallied 7.6 percent this week. Analysts estimate earnings at banks in the Stoxx Europe 600 Index to grow almost 16 percent this year and 12.4 percent next year.

Most respondents in a Bloomberg survey conducted last week predicted Draghi will revise forward guidance as early as June, six months sooner than forecast in an earlier poll. They also reduced the estimate for how long it will take to taper quantitative easing and brought forward their predicted rate hike, just as economic data from the region showed the recovery is strengthening.
Guillermo Hernandez Sampere, head of trading at MPPM EK in Eppstein, Germany, cautions that even with the potential of ECB raising rates, there are significant variances in the strength of European lenders' balance sheets. Stock-picking is especially important in the financials sector, he said, and "it's too early to give the whole sector the green light for the future."
For now, the industry is on an upward trend. On Monday, Kepler Cheuvreux SA upgraded its position on European banks to overweight on persistent signs of economic improvement and the removal of France's electoral "roadblock." French and Italian bank shares will especially benefit from the first round's outcome amid a drop in political risk and less uncertainty about Europe's economic recovery, Citigroup Inc. said.
"Financial stocks are a bright spot," Supriya Menon, a multi-asset strategist at Pictet Asset Management, wrote in a note. Her firm oversees about 462 billion Swiss francs ($464 billion). "Banking stocks look attractive, especially as we think the ECB will lay the groundwork for monetary policy normalization in 2018."
— With assistance by Justina Lee
Quotes from this Article
Before it's here, it's on the Bloomberg Terminal.
LEARN MORE