Beer
Eight Incredible Under-the-Radar Beers, Picked by Craft Experts
Top bartenders and brewers from Maine to Chicago share their recommendations for oft-overlooked but brilliant bottles.
By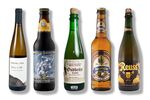 The craft beer landscape is saturated with hype—with a small number of brews getting the lion's share of the attention. But plenty of lesser-known gems are on restaurant menus and bar lists, and hosts can find it an uphill battle to persuade patrons to try them.
Here, four restaurateurs and bar managers who are respected experts in the craft beer world (including one cider director, for the gluten-free crowd) recommend some of their favorite brews that are too often overlooked.
Shahin Khojastehzad, general manager/co-owner of Novare Res Bier Café 
Portland, Me.
"In a world of options some very special beers are overlooked because they don't involve waiting in line or negotiating with some broker on the internet," says Khojastehzad. When he's asked, the first neglected brew he carries that comes to mind is Kerkom Reuss, a blend of 80 percent Belgian blonde ale and 20 percent traditional young lambic. "I always recommend this because of how the already great base Belgian blonde intermingles with the light acid and Brettanomyces yeast from the lambic to create a complex treat." While he concedes that most people will continue to hunt for a "Moby Dick" on Novare Res's menu, the guests who trust him to order this beer are always blown away.
For those who like hoppy beers but also want something easy-drinking, Tributary's American Mild has become a go-to recommendation. "It really exemplifies how a light golden 'mild' beer can be hoppy and refreshing without overshadowing the grain," says Khojastehzad. "While milds might not be as fashionable as a juicy IPA that tastes like hoppy Starbursts, we always get stoked when a new hop-head falls in love with one."
Tony Russomanno, founder of Local Option Bierwerker 
Chicago 
Occasionally a brewer finds reason to reformulate a beer's recipe, hopefully to superior new results. Pipeworks did exactly this with its Belgian-style IPA, Glaucus. "Coming in at 6.2 percent alcohol by volume, the grist, hops, and yeast finally get their chance to cooperate in a balanced fashion," says Russomanno. "If you haven't had a fresh batch, this beer deserves a second shot."
Lambic is possibly the beer genre more saturated by hype than any other. People obsessively pursue beers from producers Cantillon and Drie Fonteinen, but other brands often languish in the U.S. "Hanssens' Oudbeitje strawberry lambic always satisfies–regardless of its variation from year to year," says Russomanno. "The blenders at Hanssens apply a keen cleanliness and complexity in all their fusions. Natural fruit flavor and a unique strawberry-vanilla-yogurt character dominate this brew."
Alex Zolli, general manager of Spuyten Duyvil
Brooklyn, N.Y.
When American craft beer was still in its relative infancy, Smuttynose's Baltic Porter boasted a near-perfect score on both of the relevant rating sites, BeerAdvocate.com and RateBeer.com. "It was literally the epitome of a perfect porter," says Zolli. These days, with such a vast number of options, some of these older classics have been essentially forgotten. "This one hasn't changed a bit and is still a perfect porter; rich, roasty, nice carbonation, fairly boozy, eminently drinkable."
"Zwickelbier is probably my favorite style of German beer," says Zolli. An antique, unfiltered/unpasteurized type of lager, Arcobräu Zwickl is one of his favorites. "Crisp, medium-to-light body, slight bready/grainy notes, and so, so smooth. Just a real banger of a beer. I could drink this one all day—and I have."
Dan Pucci, cider director ("pommelier") of Wassail 
New York
"Eve's Cidery's Albee Hillremains is one of the best ciders made in America," says Pucci. A trailblazer of American craft cider, its roughly twenty-year-old orchard is managed organically, and this particular still apple wine is a blend of its finest fruit. "This 2015 vintage is loaded with notes of apricot fruit leather and lemon zest backed by firm but fine tannin and a salty mineral-driven finish. A case of this in the cellar will be an exciting surprise for years to come."
While East Hollow Cider has been commercialized for only a couple of years now, the ancient apple trees of New York state have been an obsession of its husband-and-wife cidermakers for more than 15 years. "Their Thistle Hill is an ultimate expression of terroir," says Pucci. Bright fruit flavor emerges from the foraged fruit. "The hilltop is an old commercial orchard with culinary and heirloom fruit, while countless seedling trees are propagated downhill. His cider is something we should all check out."
Before it's here, it's on the Bloomberg Terminal.
LEARN MORE