Doctor, Hospital Groups Say GOP's Health Bill Worse With Changes
By
Amendment would allow higher premiums for sick customers

Conservative Republicans back bill after alterations proposed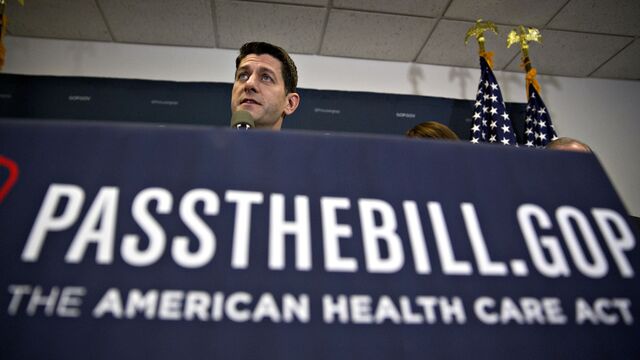 The U.S.'s biggest groups representing doctors, hospitals and older Americans came out against changes Republicans have proposed to get their health-care bill more support from conservatives, saying the amendments make the proposal worse.
The groups, which opposed the original GOP bill, said the alterations will make it harder for people with pre-existing conditions to buy coverage and will raise insurance costs for older Americans.
The amendment "could effectively make coverage completely unaffordable to people with pre-existing conditions," James Madara, chief executive officer of the American Medical Association, wrote House leaders on Thursday. Rick Pollack, CEO of the American Hospital Association, said in a statement that the changes would "dramatically worsen the bill."
The American Medical Association represents hundreds of thousands of U.S. doctors and health professionals. Pollack's group is the country's largest association of hospitals.
The changes to the bill, proposed in an amendment this week, would let states apply for waivers from rules about how much insurers can charge people based on their age or how healthy they are, as well as from requirements on what conditions health plans have to cover. Trump has previously said he wants to preserve protections in Obamacare that ban insurers from denying coverage to people, though it's not clear the changes would accomplish that goal in practice.
The White House has pushed House Republican leaders to once again attempt a vote on the bill, known as the American Health Care Act, this week as President Donald Trump's 100th day in office approaches on Saturday. An attempt to pass the bill last month failed, and the timing remains uncertain.
"Could be as soon as tomorrow or as late as never," said Representative Bill Flores, a Texas Republican.
Gathering Republicans
Representative Mark Meadows of North Carolina, leader of the conservative House Freedom Caucus, and Representative Tom MacArthur of Washington, a leader in the moderate Tuesday Group, negotiated an amendment that succeed in bringing the Freedom Caucus members on board with the bill, though it's unclear whether it's won enough support among moderates.
House Speaker Paul Ryan on Thursday called the amendment "very good progress," though said a decision hasn't been made on timing a vote.
"We're going to go when we have the votes," Ryan told reporters at a press conference in Washington.
The legislation needs 216 votes to pass the House, assuming all members vote, and it does not yet appear that Republicans have gathered the necessary support. The bill faces even more significant obstacles in the Senate.
Insurance Pools
Under the proposed changes, states that waive consumer protections would have to set up some form of help to bring down costs for those with pre-existing conditions. That could include a separate insurance pool for sick, high-risk people, or subsidies for insurance premiums.
The AARP, which has millions of members and represents older Americans, was critical of that solution.
"Changes under consideration that would allow states to waive important consumer protections -- such as allowing insurance companies to once again charge Americans with pre-existing conditions more because they've had cancer, diabetes or heart disease -- would make this bad bill even worse," Nancy LeaMond, chief advocacy and engagement officer at AARP, wrote lawmakers on Wednesday.
The lobby group for insurers, America's Health Insurance Plans, it still evaluating the changes, Kristine Grow, a spokeswoman, said in an email.
Many health groups previously opposed the legislation because it would leave more people uninsured or with limited coverage. The Congressional Budget Office determined 24 million more people would be uninsured under AHCA in 2026 than under Obamacare, though the office hasn't yet come out with a fresh assessment.
"It is unlikely this amendment would improve these coverage estimates," the hospital association said.
Drew Hammill, a spokesman for House Democratic Leader Nancy Pelosi, of California, tweeted Thursday that CBO informed them they would not have analysis ready on the changes this week or next.
— With assistance by Anna Edgerton
Before it's here, it's on the Bloomberg Terminal.
LEARN MORE