politics
Croat Coalition Heads for Collapse Over Finance Minister
By and
Prime Minister fires ministers from junior coalition partner

Parties clash over finance minister's role in Agrokor crisis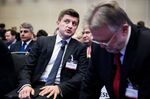 Croatia is headed for another coalition collapse as tensions over the country's finance minister and his involvement with embattled retailer Agrokor d.d. brought the ruling alliance to a breaking point.
Prime Minister Andrej Plenkovic dismissed ministers for justice, the interior and the environment on Thursday-- all of whom represent a junior coalition partner that refused to support his finance minister, Zdravko Maric, in a no-confidence vote. If their Bridge Party leaves the government, the premier's HDZ party may look to replace it with support from opposition lawmakers.
Plenkovic said he has "full support" from his Croatian Democratic Union party, a bigger member of the ruling coalition, to seek new allies in parliament and reconstitute a coalition. The turmoil in the government coincided with a clash in the Czech Republic, a fellow ex-communist European Union member, between Prime Minister Bohuslav Sobotka and his billionaire finance minister, Andrej Babis, over the latter's business dealings.
"We will seek new partners to continue the government and ensure political and economic stability," Plenkovic told reporters in Zagreb. "Should in the next days there be no possibility to form a new parliamentary majority, we are ready for new elections."
Croatia's political scene has been shaken by the troubles of Agrokor, whose revenue equals about 15 percent of the country's economic output. Before entering politics, Maric was head of strategy and capital markets at the company. Agrokor's financing difficulties forced the government to draft a special law and take effective control of the retailer and food producer that employs 60,000 people across the former Yugoslavia. The opposition triggered proceedings for Maric's ouster. The company said Thursday that preliminary checks may have revealed irregularities in past financial reports.
"Our stance is clear," Plenkovic said, as he lined up members of his cabinet to support Maric. "We reject allegations behind the motion for no-confidence vote against Finance Minister Maric."
Plenkovic announced the immediate dismissal of Interior Minister Vlaho Orepic, Justice Minister Ante Sprlje and Environment and Energy Minister Slaven Dobrovic, escalating the conflict with Bridge. A coalition of similar makeup also collapsed last June after five months in power, triggering early elections in September.
"This is a surprising development, coming at a bad moment amid the Agrokor crisis and political turmoil in Europe," Nenad Zakošek, political science professor in Zagreb, said by phone. "The government has a chance to survive."
Thin Majority
The yield on Croatia's Eurobonds maturing in 2025 rose 1 basis point to 2.744 percent at 5 p.m. in Zagreb.
Plenkovic accused Bridge's leader Bozo Petrov of undermining the government's stability. Opposition Social Democrat leader Davor Bernardic called on the premier to "prove it has a majority in parliament or call snap elections." The Croatian People's Party is ready to discuss a government of national unity, its leader Ivan Vrdoljak said, according to the Hina state news wire.
"HDZ can probably assemble majority, but it'll be so thin that it'll be questioned at each vote for any item on the agenda," said Zarko Puhovski, a political science professor at the University of Zagreb.
(
Updates with Plenkovic comment in third paragraph, markets in 11th.
)
Before it's here, it's on the Bloomberg Terminal.
LEARN MORE