Chinese Bike Wars Drive Didi, Tencent Into Rival Camps
by
Ride-hailing service integrates Ofo into its own app

Tencent has added rival Mobike service onto WeChat platform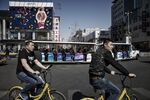 Didi Chuxing may be going up against its own patron, Tencent Holdings Ltd., by picking a rival side in China's cut-throat bike-rental industry.
China's largest ride-hailing service said Thursday it has integrated Ofo's service into its own mobile app, granting the startup access to some 400 million users across 400 Chinese cities that use Didi to summon cars and taxis. That pits it against Tencent, a prominent backer of Ofo's arch-rival, Mobike, as well as Didi itself.
Didi, which is said to be closing a funding round of at least $5 billion as soon as this week, will allow users to rent Ofo's bright-yellow bicycles from within its popular app. That's the first step in "extensive" future collaboration as the ride-sharing giant promotes Ofo's name across China, Didi said in a statement. The arrangement mirrors the way Tencent's WeChat -- China's most popular social media service -- integrated Mobike's service into its wallet interface in March.
"It seems that Didi and Tencent have an interesting relationship here," said Zhou Xin, an internet consultant at Beijing-based Trustdata. "It might do the industry some good though by having two large rival companies, which can drive more momentum and quicken expansion."
Formally known as Beijing Bikelock Technology Co., Ofo has adopted Didi's take-no-prisoners approach. It's amassed $650 million in funding and obtained an estimated valuation of more than $2 billion. With backing from Yuri Milner's DST and the country's largest online financial company, Ant Financial, it plans to expand to 20 countries and about 200 cities in China this year. In Mobike's camp is Temasek Holdings Pte and Hillhouse Capital Management. 
Hey, You! Get Ofo, MoBike -- a China Bubble Refrain: Gadfly
Both are taking their rivalry global: Mobike has pledged to expand in Europe on top of plans to spread across 100 cities in China this year.
The battle, carried out with costly subsidies and even free rides for users, has thrown the industry into bubble territory, Ofo's co-founder Zhang Siding said in April. At least 25 companies are providing similar services in China.
Before it's here, it's on the Bloomberg Terminal.
LEARN MORE