markets
Mooncake Mania Has Investors Betting Big on Egg Futures
By
Chinese egg futures rise to record premium over spot prices

Eggs used to make mooncakes served during Mid-Autumn festival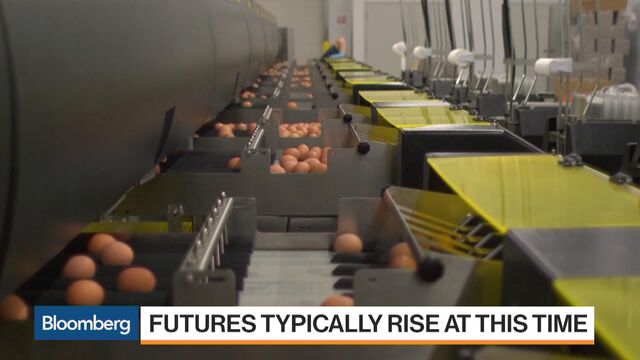 Investors in Chinese egg futures are betting families coming together for the Mid-Autumn festival will celebrate with cakes honoring a mythical moon goddess.
Most-active futures have jumped almost 25 percent this month on speculation demand will rise just before the event that falls in early October this year. That's because eggs are used to make the thousands of mooncakes -- a traditional dessert of thin-crust pastry enclosing a rich filling -- served as a delicacy when families gather to gaze at the full moon.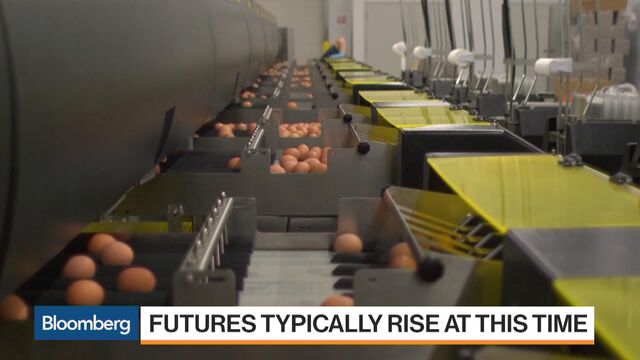 The festival is comparable to Thanksgiving in the U.S., with the cake's importance akin to that of the turkey. It's a revered cultural event that pays tribute to Chang'e, a goddess of immortality residing on the moon in the company of a rabbit who makes the elixir of eternal life. Astronauts Neil Armstrong, Buzz Aldrin and Michael Collins on the U.S. Apollo 11 mission were asked in jest to watch out for both during their lunar landing in 1969. China's own moon exploration program is named after the deity.

While mid-autumn egg futures typically rise this time of the year, the latest advance has lifted the premium for the most-active contract over spot prices to a record. September futures on the Dalian Commodity Exchange were almost 2,000 yuan per 500 kilograms higher than the cost for near-term supply in the central province of Henan as of Wednesday, according to data compiled from the bourse and agriculture industry researcher Shanghai JC Intelligence Co.
"A combination of demand and supply factors have pushed up the September price dramatically," said Alice Xuan, an analyst with Shanghai JC Intelligence. "After years of industry expansion, which caused an oversupply and weighed on prices, a lower number of chicks in farms this spring is leading to speculation," she said, adding that egg consumption may also be boosted from college canteens as the autumn semester begins.
(
Updates with additonal analyst comment in final paragraph.
)
Before it's here, it's on the Bloomberg Terminal.
LEARN MORE